There are a ton of travel apps on the market but there are only a few really great ones. In this guide, we've gathered the best travel apps that we feel are worth taking up your precious space on your phone.
Quick Note: Many apps require an internet connection to work. Read our guide on how to use smartphones and data plans abroad to ensure you don't run up a huge bill. Luckily, it's becoming easier to find free wifi but you shouldn't expect to have it available on a whim.
BUT FIRST, we highly recommend that you get a portable power bank/battery for your phone. Many of these apps will drain your phone's battery extremely quickly — especially ones that use GPS. We like the Anker PowerCore 100 (via Amazon) because it's small, affordable, and will give your phone 3+ charges.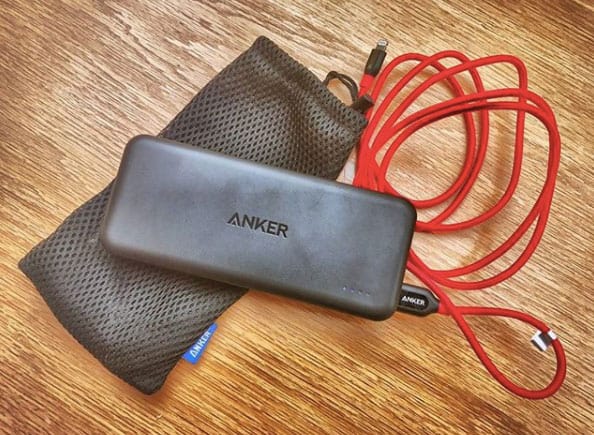 Ok… on to the apps!
WiFi Finder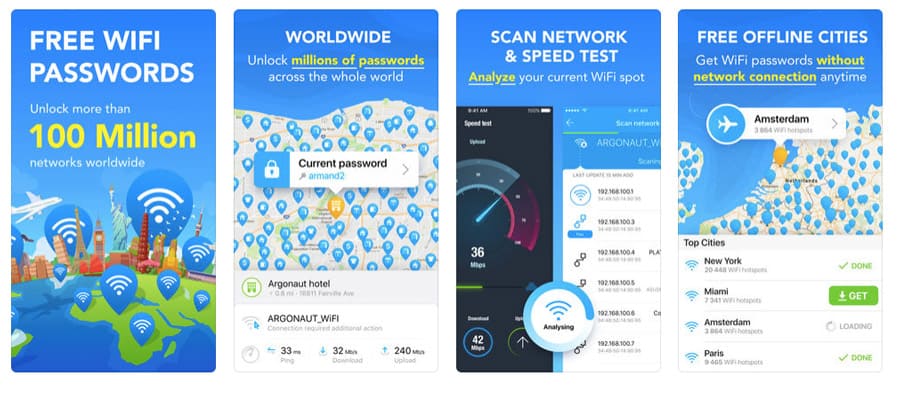 Having access to WiFi is a huge help while traveling and this app helps you find free WiFi networks in cities across the world. It's not foolproof and lots of the networks don't always work… but it does a pretty good job (it's better than nothing). The free version lets you search open networks within a mile-radius of your search area and the paid version lets you see the entire city. Download via Apple iOS and Android.
Trip Planning / Organization
These apps will help you organize your travel plans, flights, train tickets, reservations, confirmation numbers, and more.
Trip It
TripIt is the most popular trip organization travel app. Simply forward your various email confirmations (flights, trains, dinner reservations, etc.) to your TripIt app and it will automatically add it to your itinerary. All your information is then available offline once it's been downloaded. There's a paid version that adds a bit more functionality but the free version is still great. Download via Apple iOS and Android.
Google Trips
Google has finally ventured into the trip organization and planning arena and it does a solid job — it's basically a mashup of TripIt and TripAdvisor. It automatically pulls in important info like hotel reservations, flight times, train tickets, etc. into the app for easy organization. It even suggests things to see, where to eat, and it will help plan your sightseeing route. It also does a good job integrating with Google's other services — like Google Maps. Best of all, it's all available offline (so you don't need an internet connection). Download via Apple iOS and Android.
City Navigation/Maps/GPS
If you're anything like us then you probably rely on Google Maps to survive. That's why we highly suggest downloading a few map apps — it will make your life much easier (especially in European cities with confusing streets). Best of all, most of these apps are available offline so you don't need an internet connection for them to work. NOTE: The GPS in your phone doesn't require an internet connection either.
Google Maps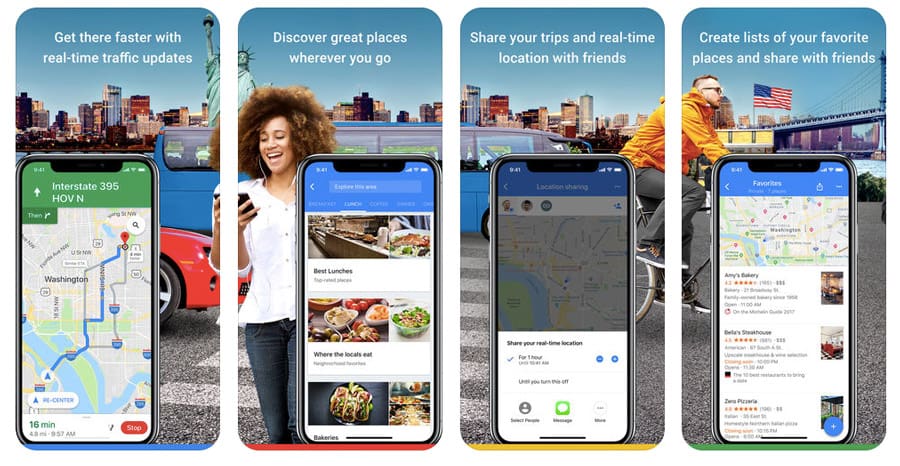 Google Maps is the gold standard so this is a must-have app — and it's free (and you probably already have it)! You can download city maps for 30-days directly to your phone and this lets you use Maps without an internet connection. We like how directions include public transit and how well it integrates with the rest of Google's programs. Download via Apple iOS and Android.
CityMaps2Go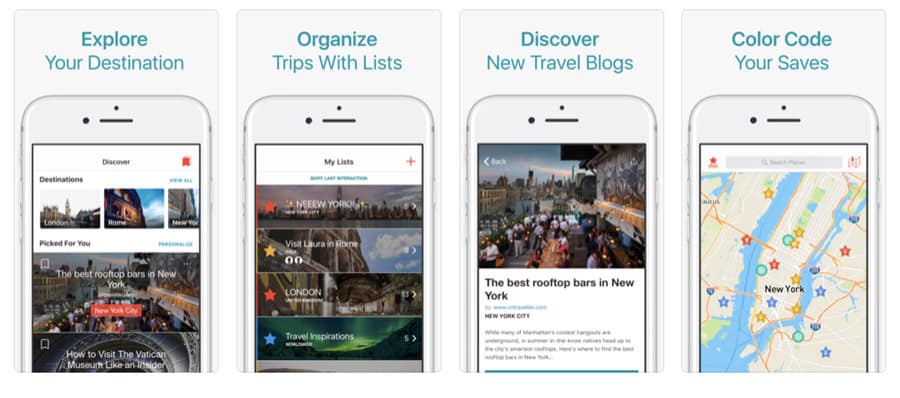 CityMaps2Go is another popular map app that's similar to Google Maps and offers downloadable offline maps and guides. It's easy-to-use and has a decent amount of destination-specific information, guides, and travel tips. We mainly used it for the maps. There is a free and paid version. We recommend downloading this in addition to Google Maps to cover your bases. Download via Apple iOS and Android.
PocketEarth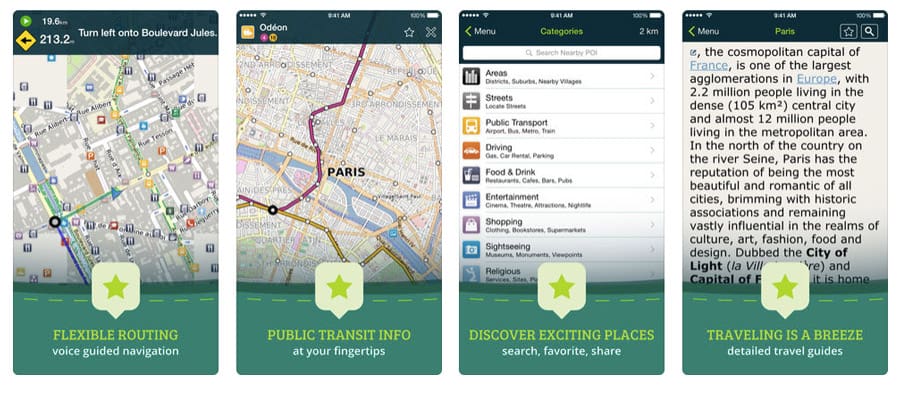 PocketEarth is a nice lightweight offline map and travel guide that pulls in destination info like public transportation, restaurant info, etc and WikiVoyage data. There is a free and a more robust paid version. Download via Apple iOS.
Maps.me
Map.me is another popular map app that's designed to be used fully offline — it's also popular for being super lightweight so it won't take up much space on your phone. Download via Apple iOS and Android.
Heer WeGo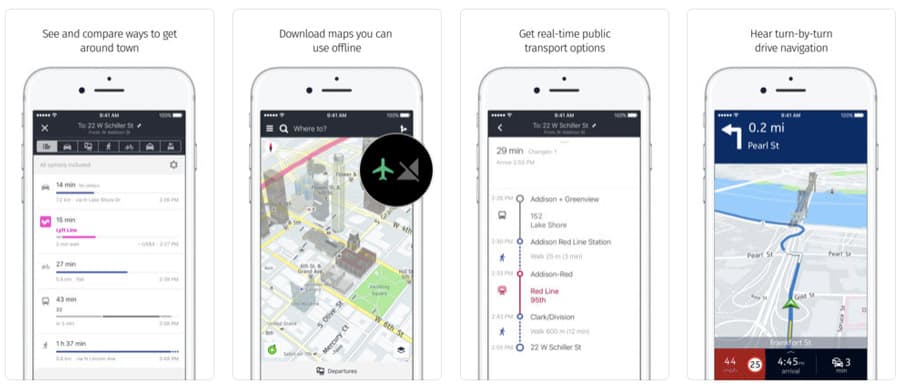 Here WeGo is another navigation app but it gets a lot of praise for it's driving navigation. So if you plan on driving while you travel then you might have to give this app a try. Download via Apple iOS and Android.
Accommodation
I'll be honest… I prefer booking my accommodation via the computer. It's simply much easier to compare multiple options on a computer. That said, it's becoming a lot easier to find and book accommodation straight from your phone (but we still use apps as a secondary backup method for when we can't get to a computer while we're on the go).
Hostelworld
Hostelworld is the best app/service for hostels. The app is nice because you can easily book your next hostel on the go — which is good for all you people traveling without much of a plan. Download via Apple iOS and Android.
Couchsurfing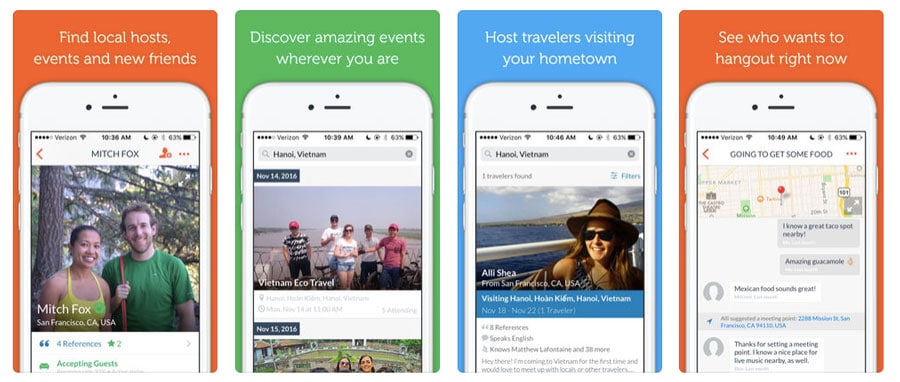 More adventurous/low budget travelers should download the Couchsurfing app. It's a great service for helping you meet locals while also stretching your travel budget. The app helps you find hosts while on the go. Want to learn more? Read our guide to Couchsurfing. Download via Apple iOS and Android.
Booking.com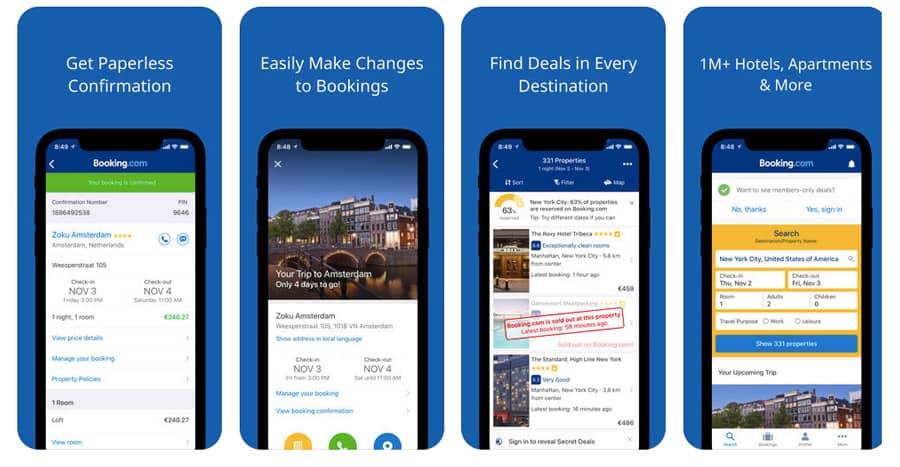 We don't stay in a ton of hotels when we travel (and when we do we normally book well in advance) but booking.com is our first choice when it comes to hotels. We use this app just in case we find ourselves needing a hotel on the road. Download via Apple iOS and Android.
Airbnb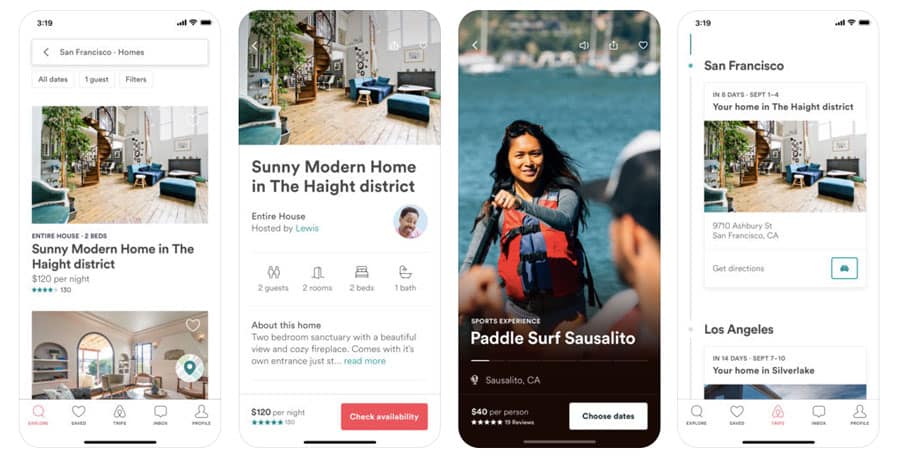 It's no secret that we love using Airbnb when we travel. The Airbnb app helps keep reservation information organized and lets you contact the host. And, of course, you can also use it to book apartments. Download via Apple iOS and Android.
VRBO, HomeAway & Flipkey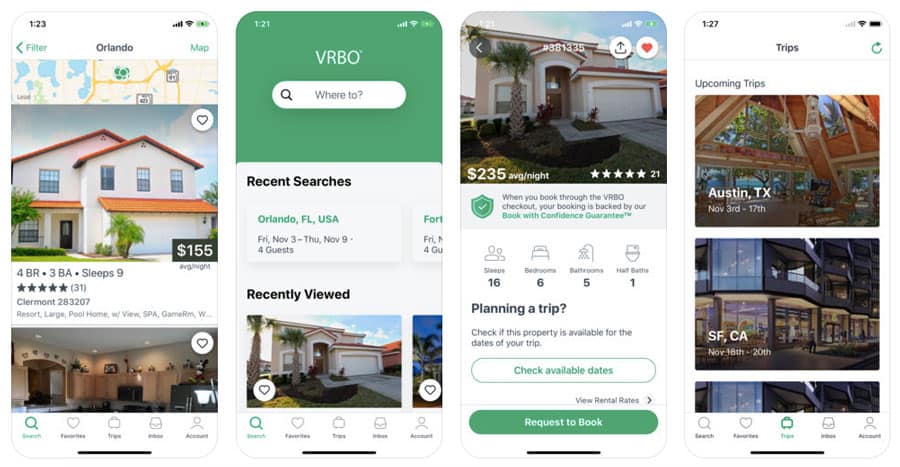 These three sites are Airbnb alternatives that also offer rental apartments. They're not nearly as slick as Airbnb but each has a surprisingly large amount of inventory. And sometimes you can find some good deals here.
Hotels Tonight
Traveling by the seat of your pants? Then you'll want to check out Hotels Tonight. This app helps you find super last minute hotel deals. Download via Apple iOS and Android.
Flights – Pricing and Information
When it comes to searching for and booking flights I also prefer to do it on the computer — it's just so much simpler than doing it an app. My favorite booking site is Momondo and it's where I consistently find the lowest prices there. I also like Skyscanner and Google Flights.
Momondo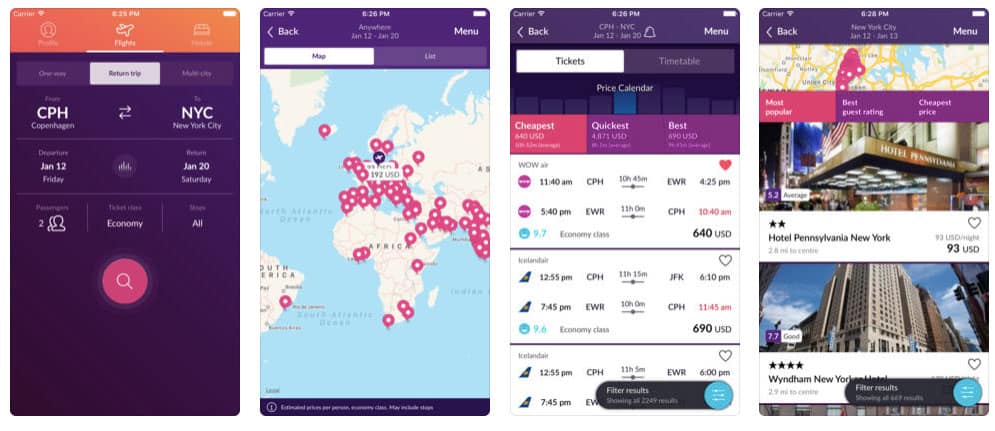 Momondo is my go-to website and app for finding the best deals on flights — I don't know how but it almost always finds the cheapest deals. It also lets you easily sort flights easily so you can filter results by price, length of travel, and more. Download via Apple iOS and Android.
Hopper
Hopper is an app that tracks flights and sends you updates when the price drops. It's a nice app to have if you're searching for tickets well in advance. It also helps predict if the price will fall or rise in the near future to help your buying decision. Download via Apple iOS and Android.
FlightRadar24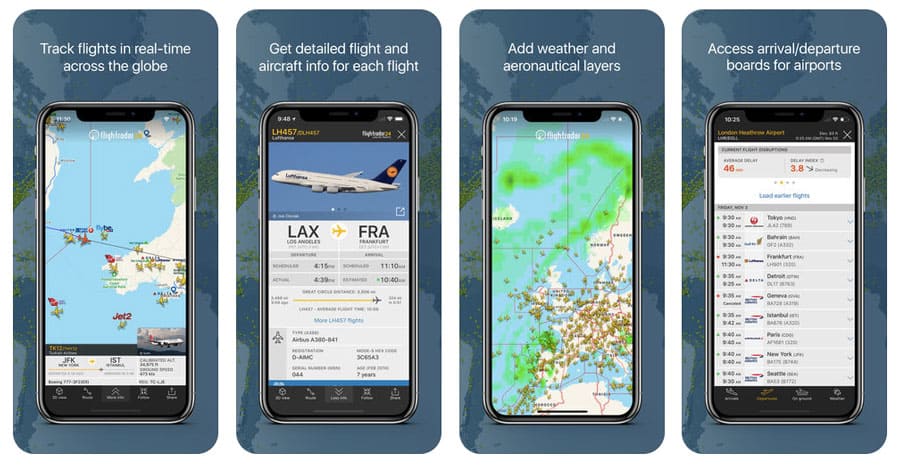 This is the best flight tracker. It also has a lot of in-depth information so you can nerd out if that's your thing. We use it mainly for up-to-date flight status & airport information. Download via Apple iOS and Android.
City Transit
These apps will help you navigate public transportation within cities. Many of these apps have public transportation information for multiple cities across the world. Many cities have city-specific apps so check out those in the app store.
City Mapper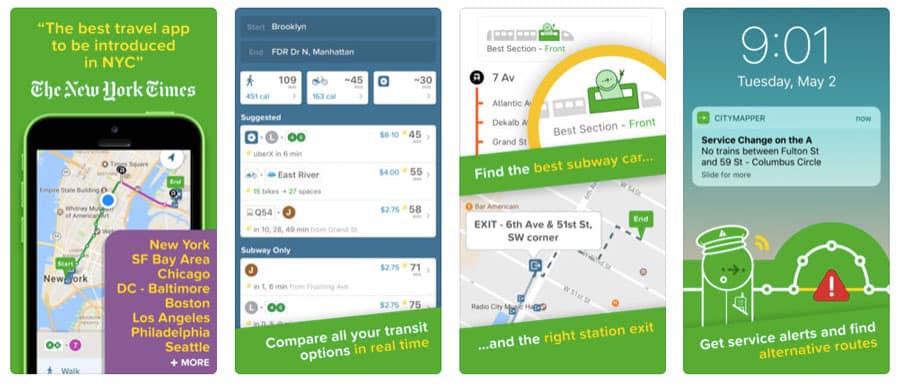 City Mapper is an easy to use, robust, and award-winning transport app covers multiple cities across the world. It will help you find the best way to get where you're going via public transportation. It's a solid app and highly recommended. Download via Apple iOS and Android.
Moovit
Moovit is another great app for public transportation that lists bus arrival times, maps, service alerts & train schedules for nearly every city. Download via Apple iOS and Android.
Rome2Rio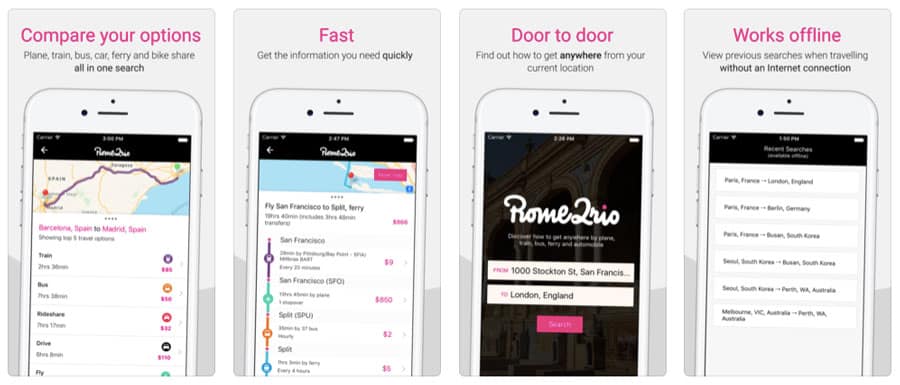 We love this site and app. It tells you how to get from one city to another via plane, train, bus, ferry, and automobile. It will also give you cost estimates and travel time so you can pick the best method of travel. It works great for traveling around Europe. Download via Apple iOS and Android.
Local Info
These apps will help your day-to-day travels — from where to eat to what to see.
Yelp, Trip Advisor, and Urban Spoon
I use these three apps to help find restaurants. Ok, I don't exclusively use them but I've found the apps to be fairly reliable — I also supplement with other research. Trip Advisor has the most reviews (many from Americans but still many from multiple nationalities), Yelp seems to be mostly American reviews, and Urban Spoon has a lot of reviews from locals.
Trip Advisor
Trip Advisor is the king of travel information. As mentioned before, it's good for finding food, but it's also good to see the most popular tourist sight. Download via Apple iOS and Android.
Google Translate
This is a great app for translating. You can even download language packs so you can use the app offline. You can also use your phone's camera to instantly translate words. Of course, you're never going to get a perfect translation, but it does help a lot — especially at restaurants. Download via Apple iOS and Android.
Rick Steves Audio Europe Travel App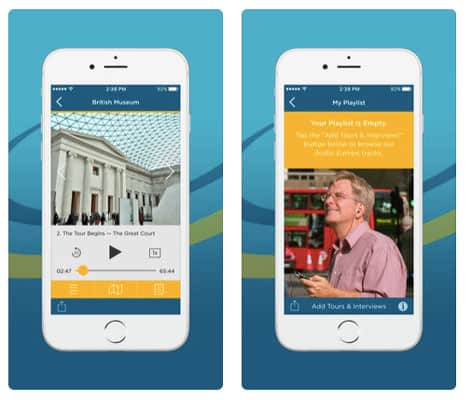 Everyone's favorite travel dork (said with affection) has a series of really nice audio city guides. We've used them in Rome, Barcelona, Lisbon, Venice, Milan, and a few other places. Download via Apple iOS and Android.
Spotted By Locals
We love getting insider tips from locals — especially when it comes to restaurants, bars and coffee shops. That's why we love Spotted by Locals. This app has city guides that cover 70+ cities (mostly in Europe) and everything is written by local "spotters". They skip the standard touristy stuff so this is a great addition to traditional guidebooks. They also update the guides frequently. The app is available offline as well. Each city guide costs $3.99. Check out the Spotted By Locals website to learn more (their site also has plenty of tips as well).
WikiVoyage
WikiVoyage is a great crowdsourced travel site — it's especially good for major European destinations. It's best for transportation information, top sights, and general city information. There is an App for Android (but not IOS at the moment) but you can use Wiki Triip. Download via Apple iOS and Android.
HappyCow
I'm not a vegetarian/vegan but I know it can be hard to find places to eat if you are. So HappyCow makes it easier. It cost $3.99. Download via Apple iOS and Android.
Other Helpful Apps
Here are a bunch of other random apps we use while we travel.
Trail Wallet
Traveling on a budget can be tough — especially if you don't track your expenses. Tail Wallet is a simple expense tracker built specifically for travel that helps you organize all your spending. Adding expenses is fast and easy, and you can set a daily budget to ensure you're not overspending. It's free for the first 25 entries but you have to pay $4.99 to upgrade to unlimited entries. Download via Apple iOS.
XE Currency Conversion
Exchange rates can be a little confusing (especially when using uncommon currencies) but the XE Currency app makes it simple. Download via Apple iOS and Android.
Evernote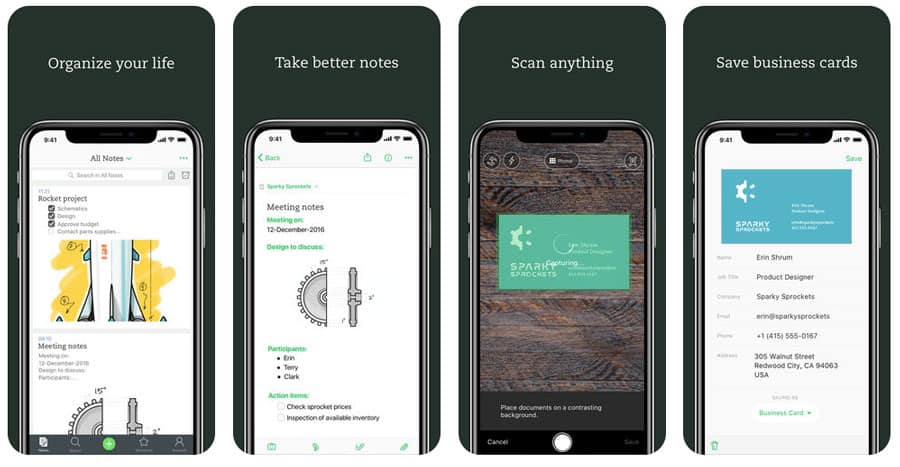 Evernote is a handy little app for note taking, organizing, tasks lists, and archiving. Lot's of people use it to take notes, lists, screenshots, info clipped from the internet, and other research documents while they're planning. They also use it organize notes, tips, reservations, and other travel documents during their trips. Download via Apple iOS and Android.
Google Keep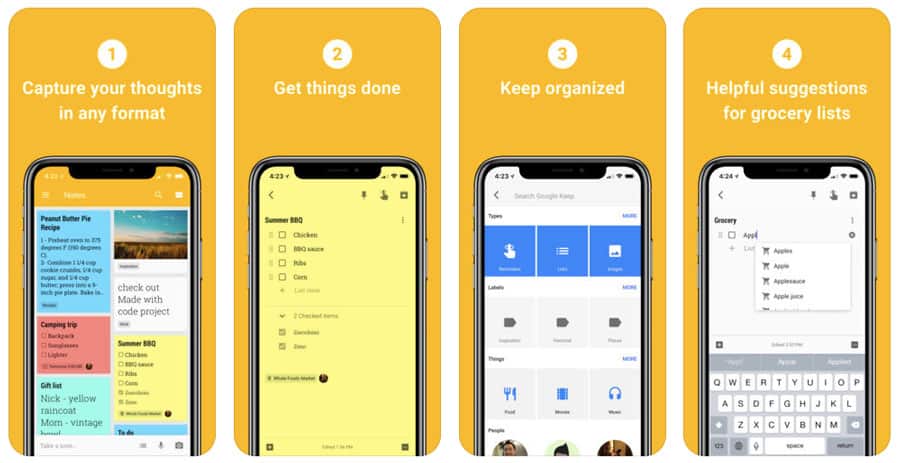 Google Keep is an organizational app that essentially does the same thing as Evernote. Plus, it's free and it integrates into much of the Google ecosystem. Download via Apple iOS and Android.
Snapseed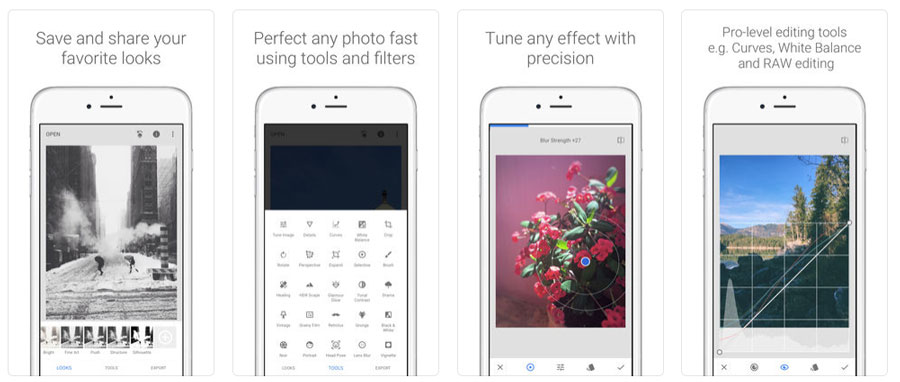 Snapseed is a great full-featured photo app that will help you take your photography to the next level. Or you can stick with Instagram but Snapseed is more powerful. Download via Apple iOS and Android.
Binaural
This app helps you beat jet lag and get a solid rest by generating sounds to help you sleep and relax. I also use it on long train rides and coffee shops to help "recharge". Download via Apple iOS and Android.
WhatsApp
WhatsApp is the standard messaging app in the world — especially in Europe. I've rarely used it but many of my Airbnb hosts and European friends used it so it's a good app to have. Download via Apple iOS and Android.
More Travel Tips
We hope you liked the article. Here are a few other articles we think you'll like!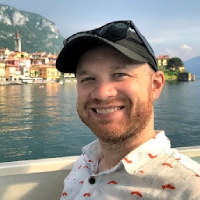 Latest posts by James Feess
(see all)
No Funny Business
The Savvy Backpacker is reader-supported. That means when you buy product/services through links on the site, I may earn an affiliate commission — it doesn't cost you anything extra and it helps support the site.
Thanks For Reading! — James
Questions? Learn more about our Strict Advertising Policy and How To Support Us.