Updated: November 5, 2017. Originally Posted: April 2013
What's the best travel camera? Whew. That's an overwhelming question that has a million answers.
That's why in this travel camera buyers guide we're focusing on the best "bang for your buck" cameras that have the features that travelers find most important in a camera — like the ease of use, price, packability, image quality, and low-light performance.
Important Travel Camera Features 
Travel photography is different than other kinds of photography — mainly because you want a camera that's easy to carry around and that's easily packable.
So, before we dive into our favorite cameras, let's start with what kind of features you should look for in a travel camera.
Size & Weight — A large and heavy camera is a pain to carry around all day — which means many people end up leaving it back in the hotel because they tire of lugging it around.
Fast Lens — Lens aperture is measured in f/numbers, such as f/1.8, f/2.0, f/3.5, etc. You want as low a number as possible. Basically, the lower the number, the better it will perform in low-light situations.
Zoom — A zoom lens is a nice feature to have since it lets you get closer to the action. But the bigger the zoom the bulkier the camera gets. Whether or not you want a big zoom is a personal preference based on your shooting style. Either way, always look at the "optical" zoom. A "digital" zoom should be totally ignored since it just makes your photos pixelated.
Lens Quality — A high-quality lens separates low-quality cameras from high-quality cameras. The only way to find out about the lens quality is by reading reviews.
Megapixels — Many people assume that photo quality is determined solely by megapixels. This isn't completely true. Even budget cameras come with 14+ megapixels. Anything higher than 14MP should be fine unless you're wanting to print your photos very large. The real quality comes from a nice lens and sensor quality.
Auto Settings — If you're not a great photographer then you'll want to read up on your camera's Auto Setting performance. The best cameras can autofocus and get the right exposure quickly — so you won't miss the shot.
Manual Settings — Camera buffs want the ability to use manual control their camera so they can get the perfect shot.
HD/4K Video — A lot of new cameras can take high-quality video. If you would like video from your trip, make sure your camera has HD video capability. Some even have 4K capabilities — which is pretty amazing.
WiFi/Bluetooth Enabled — Some cameras can sync up to your wifi network and can upload your photos instantly.
Extra Lenses — High-end cameras have interchangeable lenses so you might want to look into those if you're a photo junkie.
GPS — Some cameras have GPS so they can tag your photos with the location. It's not a must-have feature but it's kinda nice for travel photography.
Types of Digital Cameras
There are five main types of digital cameras. Each has their advantages and disadvantages.
Point & Shoot
DSLR
Mirrorless
Smart Phones
Action Cameras (GoPro, drones, etc.)
Point & Shoot Digital Cameras
Point and Shoot (P&S) cameras are great for travel because they're compact enough to fit in your pocket and they're user-friendly so they don't really require any technical knowledge to operate them. Personally, for most non-photo buff travelers, we think a mid-level to high-end P&S is the way to go.
Mid-level and high-end point and shoot cameras are packed with great technology and excellent lenses that result in near professional quality photos — especially considering how small the cameras are.
That said, the low-end of the point and shoot camera market has been decimated by smartphones. Just about any camera priced under around $250 really won't be any better than a modern smartphone.
Point & Shoot Pros
Compact — There is a saying about cameras, "The Best Camera is the One That's With You." When you're traveling, you're much more likely to bring a camera that is small and easy to carry. These cameras continue to get smaller and the image quality gets better. I'm amazed that it's possible to get near pro results from a camera the size of a deck of cards.
Affordable — You can get a pretty good camera for about $300, but a nice one will cost $300-$600. The high-end can cost $600-$1000.
Easy To Use — Simply point it at your subject and shoot the picture (hence the name).
Point & Shoot Cons
Less control — Many point & shoot cameras don't offer as much control as a more expensive camera. But, unless you are a total photo nerd, this shouldn't be a huge deal. Most travelers are more comfortable using the automatic features of a camera anyway.
Poor In Low Light Conditions — If you've used a digital camera, you've probably noticed that they don't always take good pictures in low-light conditions (although many high-end point & shoot cameras do a pretty good job.)
Poor Zoom — In general, as cameras get smaller, the zoom also decreases. There are some point and shoot cameras that do have 10x-30x zoom but they're not always pocketable.
Shutter Lag — If you've used a digital camera, you've experienced the lag between pressing the button and the time it takes the camera to actually take the photograph. This lag makes it difficult to take quality action shots.
Expensive at High-End — The top-of-the-line p&s cameras can be as expensive as $900 — which, at that point, you might as well look at more advanced cameras.
Our Favorite Point And Shoot Cameras
Panasonic Lumix LX10 (around $600)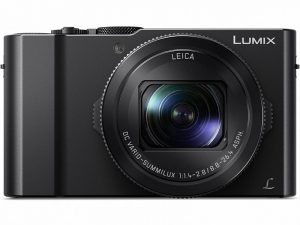 I love the Lumix LX line of cameras and I'm still amazed at my old LX3's image quality. Well, now we're up to the LX10 (it's also called the LX15 but it's the same camera). So what makes this camera so good? Basically, it does a lot of things really well — which makes it versatile for most users.
The real standout of the LX10 is it's amazing Leica lens. It goes down to f1.4 (which means it does well in low light), it has a fast autofocus, and it produces sharp and crisp images. It also does 4K video. Ohh, and it has a touchscreen and manual settings. The one downside is that it's small but it might not be quite small enough to easily fit into some people's pants pocket.
LX 10 Highlights
20 Megapixels w/ Large 1-inch Sensor
3x (24-72mm) f/1.4-2.8 Leica Zoon Lens
4K Ultra HD Video
Good Low-Light Performance
WiFi
Touchscreen that Flips
Easily fits in a bag or jacket pocket.
See Amazon For The Latest Price
Sony RX100 ($450-$1000 depending on model)

The Sony RX100 line is pretty amazing and it's arguably the best "bang for your buck" travel camera. The RX100 currently has five versions (RX100, RX100 II, RX100 III, RX100 IV, and RX100 V). Each version adds a few new features but the image quality is practically the same across the entire line. That said, the "base model" RX100 is an excellent choice that will cost around $460.
If you really want to go all out, the RX100 V is priced around $1000 and it's probably the best point-and-shoot on the market. It adds an electronic viewfinder, 4K video, fast burst rate, and excellent autofocus. That said, it is $1,000 — which is out of our budget.
RX100 Highlights: 
20 Megapixels w/ Large 1-inch Sensor
Fast Carl Zeiss F/1.8-4.9 Zoom Lens
3.6x zoom
Good Low-Light Performance
1080 Video
2.29 x 1.41 x 4 inches — easily fits in a bag or jacket pocket.
Check Amazon For The Latest Price
Panasonic Lumix DMC-LX100 (around $800)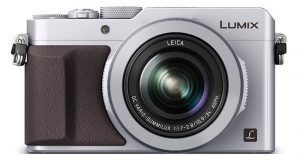 The Lumix LX100 is another crowd favorite from Panasonic. Its claim to fame is its large four-thirds sensor that's normally found in high-end professional cameras. This, coupled with its f1.7 lens, means it has excellent performance in normal and low-light conditions. The LX100 also has full manual controls so this is a great option for someone who wants to really dial in their shots. This camera isn't "small" but it's still compact enough to not be bulky.
LX100 Highlights:
24-75mm Leica DC lens (F1.7-2.8)
Four-Thirds sensor
12.8 Megapixel
3.1X Zoom
4K Video
Robust Manual Controls
Electronic Viewfinder
Check Amazon For The Latest Price
Canon PowerShot G9 X & G9 X Mark II ($400-$450)
Here are two more excellent travel cameras from Canon, and at $400 for the GX9 model, they're some of the most affordable high-end cameras. The GX9 and the GX9 MII are essentially the same cameras except for the GX9 MII has a faster processor and Bluetooth/wifi connectivity. So what makes this camera so good? It pocketable. It does pretty well in low-light thanks to the f/2.0 lens and its 1″ sensor.
GX9 Highlights:
20.2 Megapixels
f/2.0 lens
3x Optical Zoom
1 Inch Sensor
1080p Full HD video
LCD Touch Panel
Check Amazon For the Latest Price On the GX9 and the GX9 MII
Ricoh GR II ($600)
The Ricoh GR II is a cult classic but it isn't right for everyone. That's because this camera is a fixed length 28mm lens — which means there is no zoom. However, the 28mm lens is ideal for street photography. The lens on this camera is amazing, it has the same sensor than you'll find in an expensive Mirrorless camera, it has almost no lag, and it has a range of intuitive manual shows. That said, this is more of a camera for photo geeks so it might not be the right camera for everyone.
Ricoh GR Highlights:
16.2 Megapixels
F2.8
Fixed 28mm Lens
Large APS-C Sensor
Pocketable and Lightweight
Check Amazon For The Latest Price
Canon PowerShot SX720 HS (Under $300)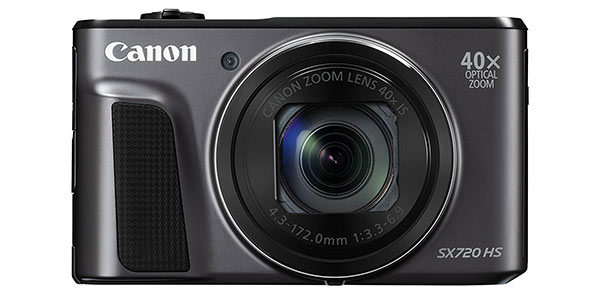 For budget travelers, the Powershot SX720 HS is your best option. It's small enough to fit in your pocket, it has an impressive 40x Optical Zoom, and it does alright in low light. Plus, you can usually find it for around $280.
SX720 HS Highlights:
20.3 Megapixel
40x Optical Zoom
Pocketable
Check Amazon For The Latest Price
Smart Phones
Honestly, we find ourselves using our smartphones all the time while traveling. Sure, the photos aren't going to be as good as a digital camera but the photos from the latest generation phones are pretty solid.
For example, we use an iPhone 6 and we're happy with the results. We have friends who use the iPhone 7 and the quality is pretty amazing — the quality is also great on iPhone 8 and X. We've also heard great things about the Google Pixel phones.
Smart Phone Pros
Always In Your Pocket — The best thing about your phone is that it's always with you.
Fairly Good Photos — Photos from an iPhone 7 and higher are pretty amazing for a phone.
Photo Apps — You can edit your photos on the fly.
Instant Social Media — You can get your photos posted in real time.
Smart Phone Cons
No/Little Zoom — You're not really going to get any zoom on a phone. Most will have a digital zoom but this kind of zoom results in blurry/pixelated photos. New phones might have a little zoom but it's nothing special.
Not Great in Low Light — Moden phones do a fairly good job in low-light conditions but it's not great.
Limited Storage Space — My phone is in a constant state of being out of space.
Our Favorite Point And Shoot Cameras
Pretty much any modern smartphone is a solid option for travel photography. We recommend the iPhone 7, iPhone 8, iPhone X, Samsung Galaxy Note 8, and the Google Pixel 2. 
Mirrorless Digital Cameras
A mirrorless camera is essentially the same as a DSLR but it doesn't have a mirror inside — this means it can be much more compact.  They basically combine the best features of DSLRs and point & shoot cameras. They are just a little bigger than a point & shoot camera but still take DSLR quality photographs.
If you're serious about travel photography, and you have the money, then this is what you want.
Mirrorless Pros
Compact — They are bigger than a compact point & shoot, but they are much smaller than a DSLR. They are small enough to carry around all day and not seem bulky. Unfortunately, these are still too large to be "pocketable," but they will easily fit in a small bag.
High-Quality Photos — You can take DSLR quality photos if you have a basic understanding of cameras.
Good Zoom — Depending on your lens, you have the ability to have a nice zoom.
Minimal Shutter Lag —  There is pretty much no (or very minimal) shutter lag.
Great Video — These cameras have the ability to take amazing video — some do 4K.
Lots Of Lenses — Mirrorless cameras have a wide range of lenses if you want to take your photo game to the next level.
Mirrorless Cons
Expensive-ish — Expect to pay around $500-$2,000+ depending on the brand and lens configuration.
Image Quality Not Quite DSLR — If you're a photo nut and need the best image quality possible, then you'll notice the image quality difference — especially with entry-level cameras. But, 99% of the population will never know the difference. In fact, many pros would gladly give up a little quality for the increased portability.
Learning Curve — Like DSLRs, Mirrorless cameras are more advanced so it requires more technical skill to take advantage of the camera's full capabilities.
Fewer Lenses — DSLRs have more lens options but unless you're a pro shooter then this really isn't an issue.
Our Favorite Mirrorless Cameras
Sony Alpha a6000 ($550)
The Sony Alpha a6000 packs a helluva punch for the price — it's probably best "bang-for-your-buck" digital camera. In addition to taking amazing photos, the a6000 is compact, lightweight, and has an electronic viewfinder. It's easy enough for complete beginners to use but it still has manual controls for more advanced users. It's no wonder this camera gets a crazy amount of good reviews.
Alpha a6000 Highlights:
24.3MP APS-C Sensor
HD 1080p XAVC S Video
E PZ 16-50mm f/3.5-5.6 Lens
Electronic Viewfinder
Check Amazon For The Latest Price
Sony a5100 ($500)
The a5100 is an excellent option for beginners wanting to take that jump from a point-and-shoot camera to something more powerful. The manual controls aren't super easy to use so this is a camera for people wanting to mainly stick with automatic settings (the other cameras on this list have better manual controls).
That said, the a5100 will take great photos and videos thanks to its large sensor and quality lens. It's also small and compact.
Highlights:
24MP APS-C sensor
Fast Autofocus
Full HD 1080/24/60P video
WiFi
Check Amazon For The Latest Price
Olympus E-M10 II ($600 w/ Lens)
The Olympus E-M10 II is another great camera that's fairly compact and delivers great performance. It's also aimed at beginners but it has manual controls for more advanced users. It also looks pretty cool.
E-M10 II Highlights:
16.1 Megapixels
HD Video
Wi-Fi
Check Amazon For The Latest Prices
Panasonic Lumix G7 ($800)
The Lumix G7 hits that sweet spot of performance, size, and price for travelers who want pro-performance without shelling out well over $1000. It is easy enough for beginners to use but it also has enough features and manual controls to satisfy more experienced users. Plus, it's one of the cheapest cameras to shoot 4K video. It's an all-around solid camera is you have the cash.
G7 Highlights: 
Four-Thirds CMOS Sensor
16 Megapixels
4K Video
WiFi
Touch Screen
Check Amazon For The Latest Prices
Digital SLR (DSLR) Cameras

Digital SLR (DSLR) cameras are quickly being replaced by their mirrorless counterparts — mainly because DSLRs are heavier and bulkier. However,  Digital SLRs still take great photos and the prices can be more reasonable than Mirrorless cameras. But, honestly, we'd skip the DSLR in favor of a mirrorless — especially for travel.
DSLR Pros
Great Photos — You can take some amazing photographs if you know how to use the camera.
Good Zoom — The choice of lenses for DSLRs means you can find some with a nice zoom.
No Shutter Lag — Taking action photographs is much easier with a DSLR because there is no shutter lag.
Good Low Light — A DSLR will let you take good low-light photos (depending on the lens, of course).
Affordable-ish — Entry level DSLR cameras start around $450.
DSLR Cons
Big and Bulky — The worst thing about a big camera is the hassle of always hauling around all the extra weight and bulk. I know some travelers that bring a camera like this but then end up not using it much because they hate always taking it with them. Even many pro photographers choose a high-end point & shoot over their DSLR when they travel.
Need Technical Know-How — To get the best photos, you need to know how to properly use the camera. An inexperienced shooter won't see much improvement in photo quality when compared to a nice point & shoot.
Expensive-ish — A new DSLR starts at about $450 for an entry-level model but can go up to $3,000+
Fragile — Protecting a DSLR can be challenging — especially when you're always on the move. You'll want a camera bag.
Not Inconspicuous — If you want to take pictures of the locals, be prepared for them to shy away when you point one of these huge cameras in their direction. A small camera is less noticeable.
Our Favorite DSLR Cameras
Nikon D3400 & Nikon D3300 ($450-$500)
The Nikon D3400 & Nikon D3300 are essentially the same camera except that the D3400 has a few more bells and whistles. If you're venturing into the world of DSLRs then these two cameras are solid and affordable options. This camera is easy enough to use for beginners but it can keep up with you as you learn more manual controls. Also, it does well in low-light when compared to other cameras in its class and it's fairly compact (for a DSLR, that is).
Highlights:
24.2 MP CMOS DX-format sensor
1080 Video 
Low-Light Performance
Check Amazon For The Latest Price
Handy Digital Camera Accessories
Adobe Lightroom Photo Editing Software — I love Adobe Photoshop Lightroom for editing my photographs. My photos are so much better because of LightRoom. They have a student version for $80 and the regular version for $299.
Memory Cards — It is essential to have enough memory cards. These new cameras take really high-quality photographs, but that also means the file sizes are very large. The last thing you want to do is run out of card space while you're traveling. Don't buy a bargain brand of memory card because they have a higher chance of having errors.
Also, memory cards are rated by class. The higher the class, the faster the card performs. I recommend getting one rated at 8 or above. Luckily, memory cards are pretty cheap.
I recommend the Transcend Class 10 SDHC Flash Memory Cards — they have multiple sizes from 8GB to 128GB. In fact, I like all Transcend media.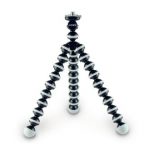 Extra Batteries — Don't forget the batteries! I like to bring an extra battery just in case one runs out of juice during the day. Check eBay or Amazon for cheap third-party batteries.
Gorillapod Tripod — I used my Gorillapod Flexible Tripod a lot on my trip. It is a handy little accessory that doesn't take up a lot of room.
Camera Bags/Cases — You'll want a nice camera bag if you buy a nice camera since travel can be tough on your expensive gear.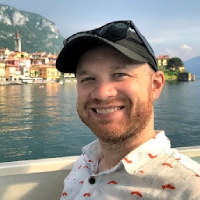 Latest posts by James Feess
(see all)
No Funny Business
The Savvy Backpacker is reader-supported. That means when you buy product/services through links on the site, I may earn an affiliate commission — it doesn't cost you anything extra and it helps support the site.
Thanks For Reading! — James
Questions? Learn more about our Strict Advertising Policy and How To Support Us.