Listen up guys: The most important travel rule is to wear comfortable shoes because your feet will take a beating. But you also want to wear cool-looking shoes so you don't instantly stand out as a tourist. So to help you out, I've written this guide to the best travel shoes for men that are both comfortable and fashionable.
In this guide, I'll help you pick what kind of travel shoes to pack, how many pairs of shoes you should bring while traveling, what styles of shoes are fashionable, and how to ensure your feet stay comfortable while traveling.
---
Table Of Contents
---
Comfort Vs Fashion (Yes, You Can Have Both)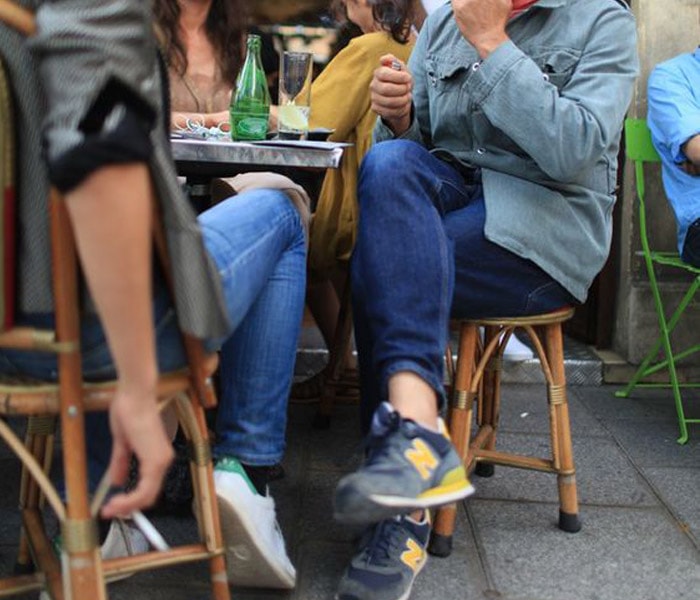 Here's the deal…
The average traveler walks 6-12+ miles a day while visiting urban destinations like Paris, London, Rome, Berlin, NYC, etc. I think I hit about 14 miles in a day during my last trip to Paris.
Even standing for a few hours at a museum can be a killer on your feet. And as soon as your feet start hurting, the rest of your body quickly follows. So comfort should be your top priority.
BUT SNEAKERS ARE SUPER POPULAR!
Yes, even the fashionable Parisians and Italians and New Yorkers wear sneakers. But they wear cool sneakers (which I'll cover in-depth throughout this article). Just pair your cool sneakers with a well-fitting outfit and you'll be good to go.
But, at the end of the day, you should always choose comfort over style.
NOTE: I've also covered some comfortable and stylish waterproof/weather-resistant footwear options in this guide if you're traveling during the rainy/winter seasons.
---
How Many Pairs of Shoes Should You Pack For Travel?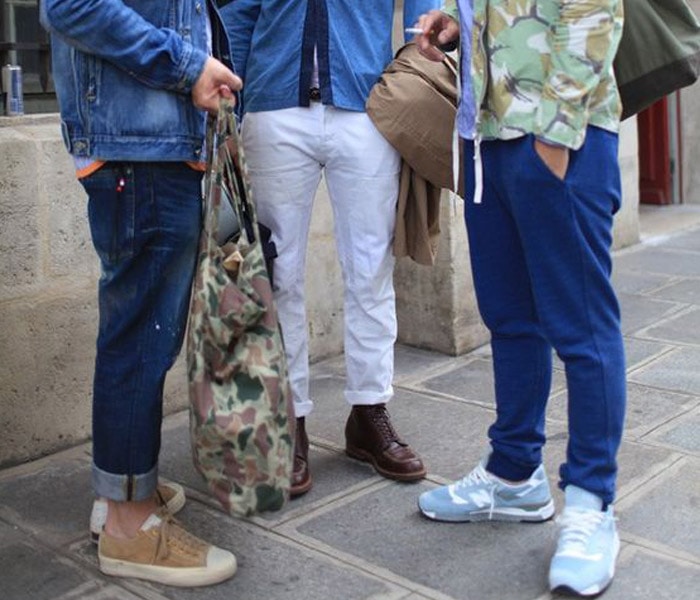 I've done plenty of trips to Europe where I just brought one pair of shoes but I think most men can easily get away with two pairs.
I recommend one pair of comfortable sneakers that you'll use during the day as you explore and then a pair of sleeker, more minimalist leather sneakers for the evening.
Personally, I wouldn't bother with higher-end dress shoes unless you're a luxury-level traveler (which I assume you're not if you're reading this website).
---
The Best Men's Travel Shoes and Sneakers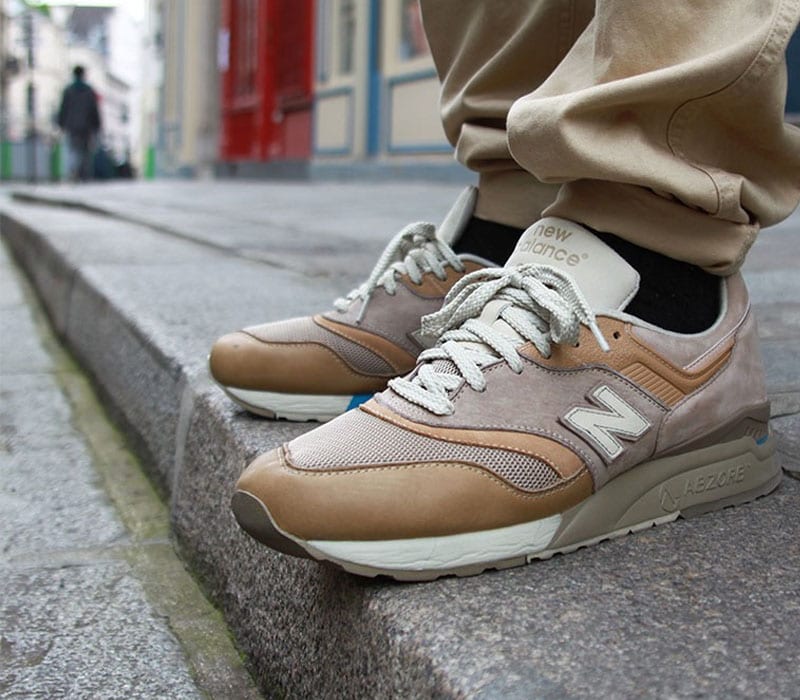 Alright fellas, let's start off with my picks for the best athletic-inspired (aka "lifestyle") shoes/sneakers.
As I mentioned previously, these will be your main pair of shoes that you'll wear 90% of the time so they need to be comfortable. If you want maximum comfort, you might consider full-on legit running/walking shoes (but you might have to give up some "fashion" points.)
And all the sneakers listed below are very popular so you'll see tons of locals wearing them (i.e. so you won't look like a "tourist"). But, honestly, any pair of cool sneakers will work perfectly.
New Balance 574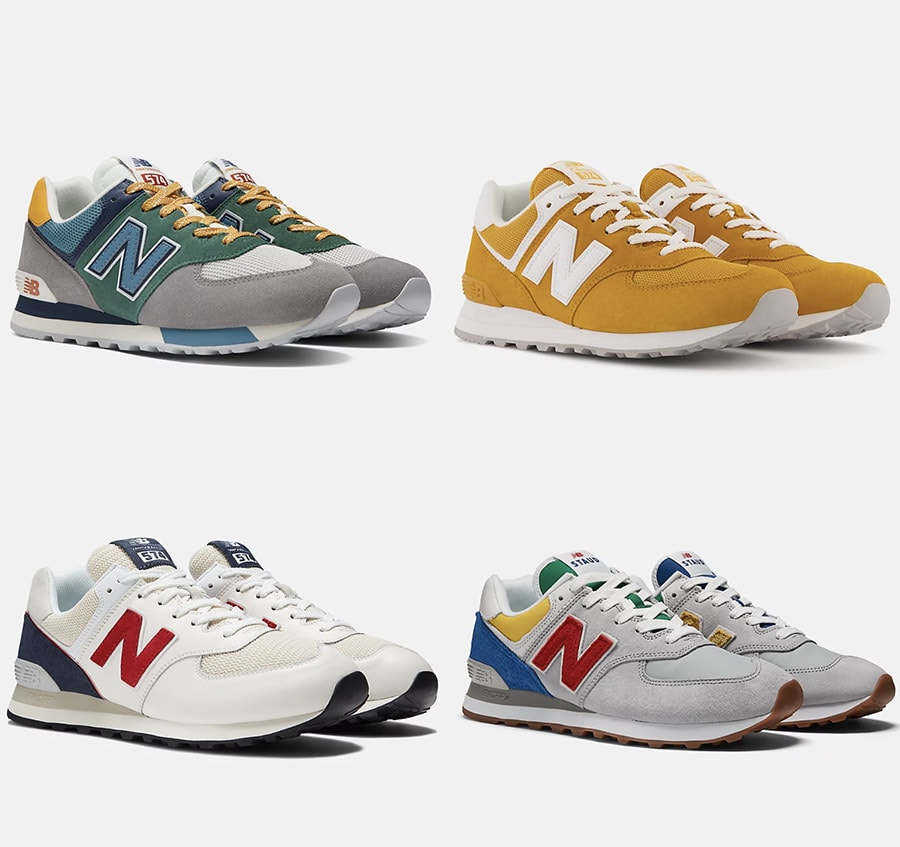 When it comes to a pair of shoes for travel, you can't go wrong with the classic New Balance 574 for comfort and style. They come in multiple colors so you can find something that fits your style and they're one of the more affordable shoes on the market. New Balance also offers a few different variations on the 574 so you can find them in various materials and color combinations.
These do run small so they recommend going up a size.
New Balance 237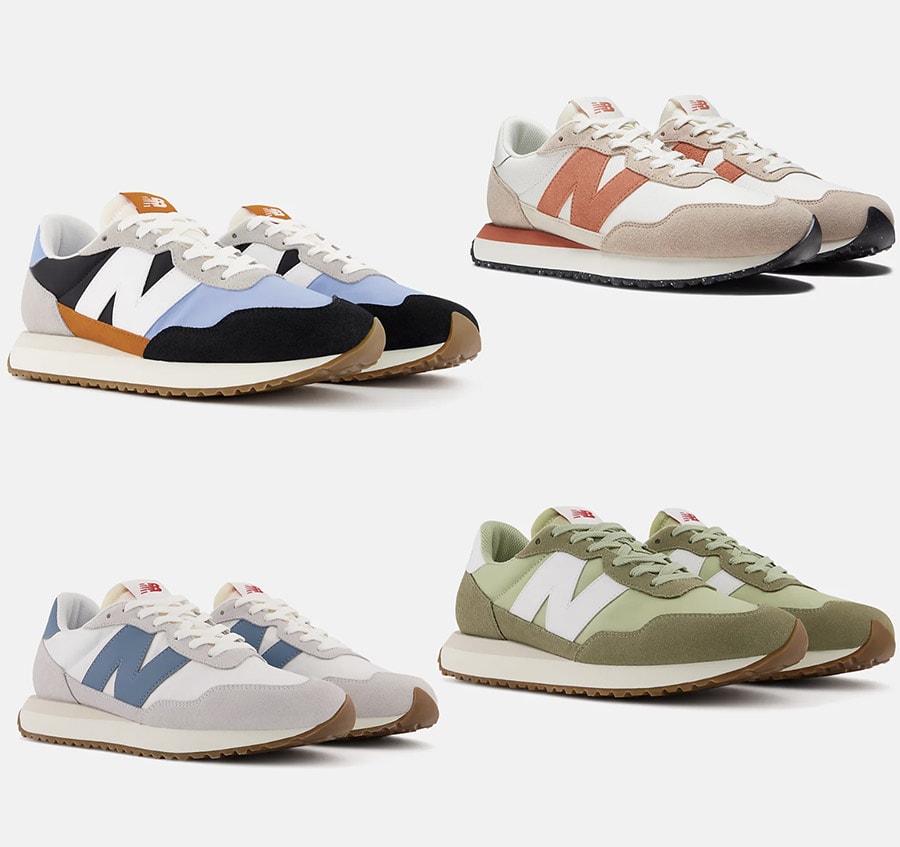 The New Balance 237 is a great choice if you're looking for a travel sneaker with a bit more subdued retro styling than the 327—although it does still come in a few bold colorways.
New Balance 327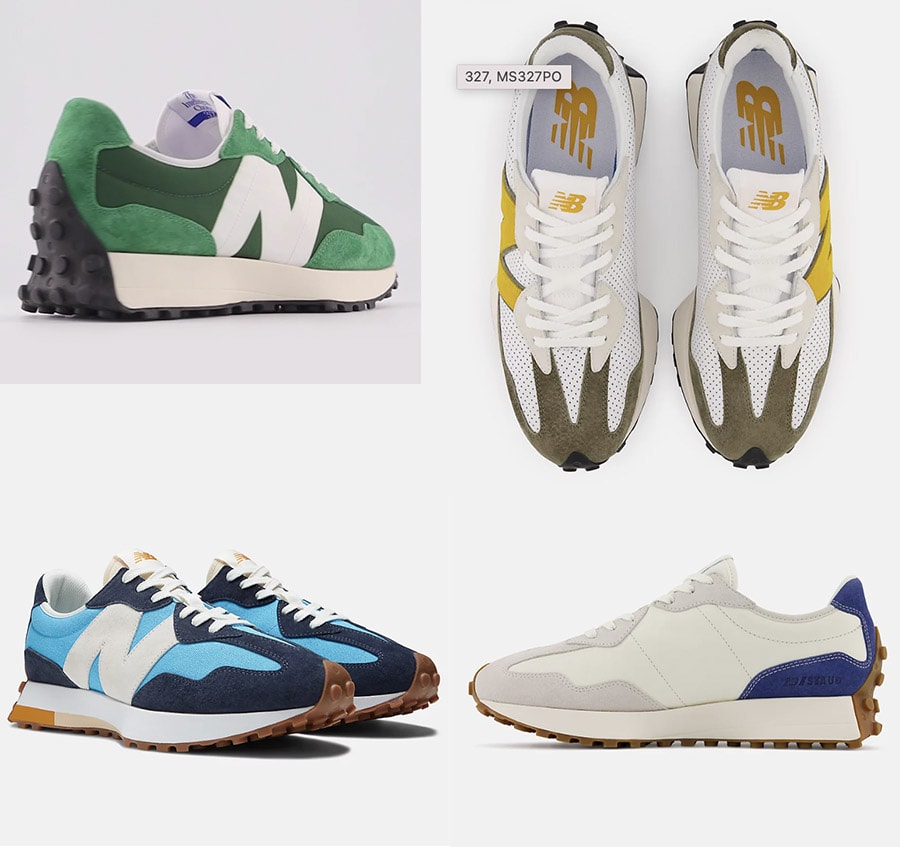 The New Balance 327 is a redesign of their 1970s classic running shoe and it's been a huge hit for sneakerheads—it's one of my favorite travel shoes. The New Balance 327 is comfortable, stylish, and "different-looking" without being too "different".
The 327 comes in a ton of different materials and colorways so you can go subtle with your styling or go super bold.
New Balance 990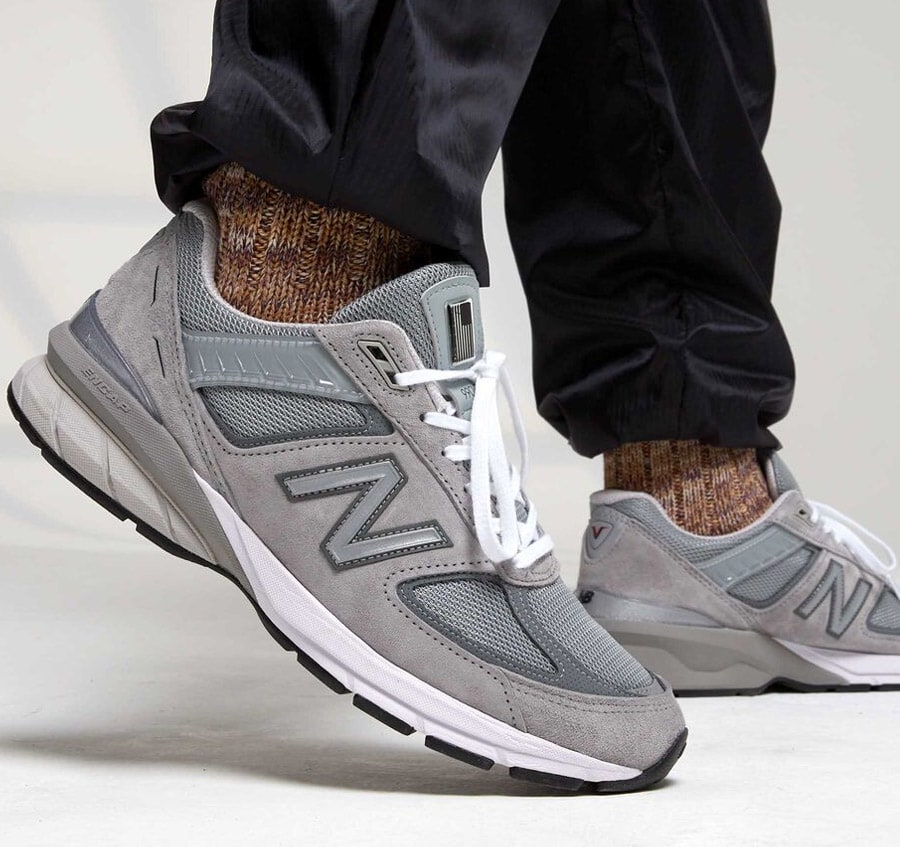 The New Balance 990 is the classic "it's kinda ugly but it's also actually cool and it's so comfortable I don't want to take it off" walking shoe from New Balance. People love this shoe (it's one of New Balance's highest-rated shoes) and it's a favorite for many young and fashionable urbanites—it has also found its way into many runways and fashion weeks. This is a great men's travel shoe if you have any kind of foot issues.
Nike Air Pegasus 83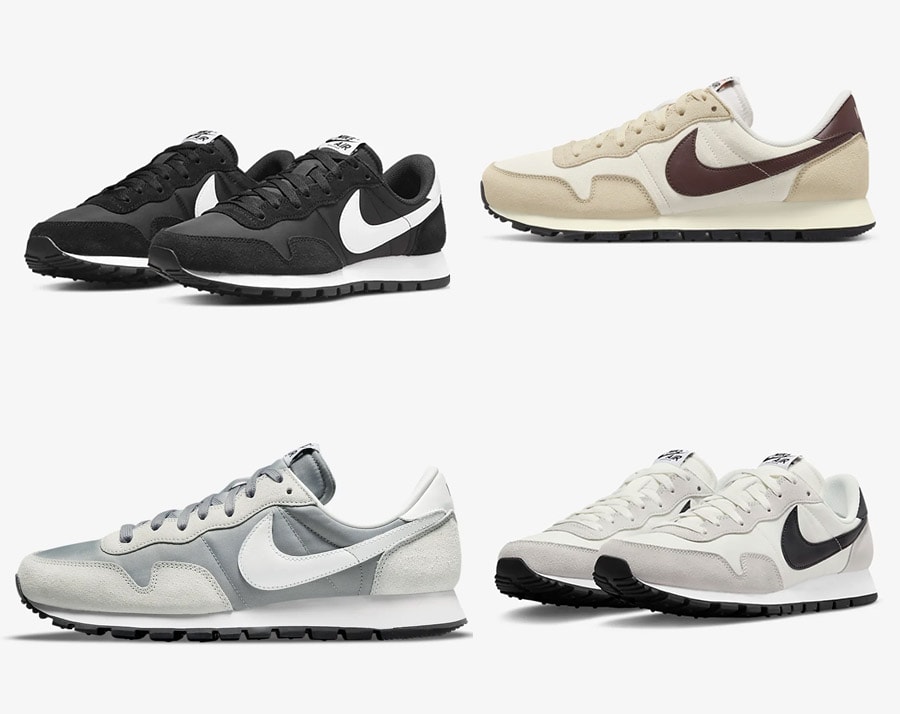 The Nike Air Pegasus 83 is a 1980s retro-style running/lifestyle shoe that has cool looks and has extra cushioning in the soles thanks to its Nike Air technology. This shoe strikes a nice balance of having plenty of support while also staying fairly minimalist.
Nike Air Max 90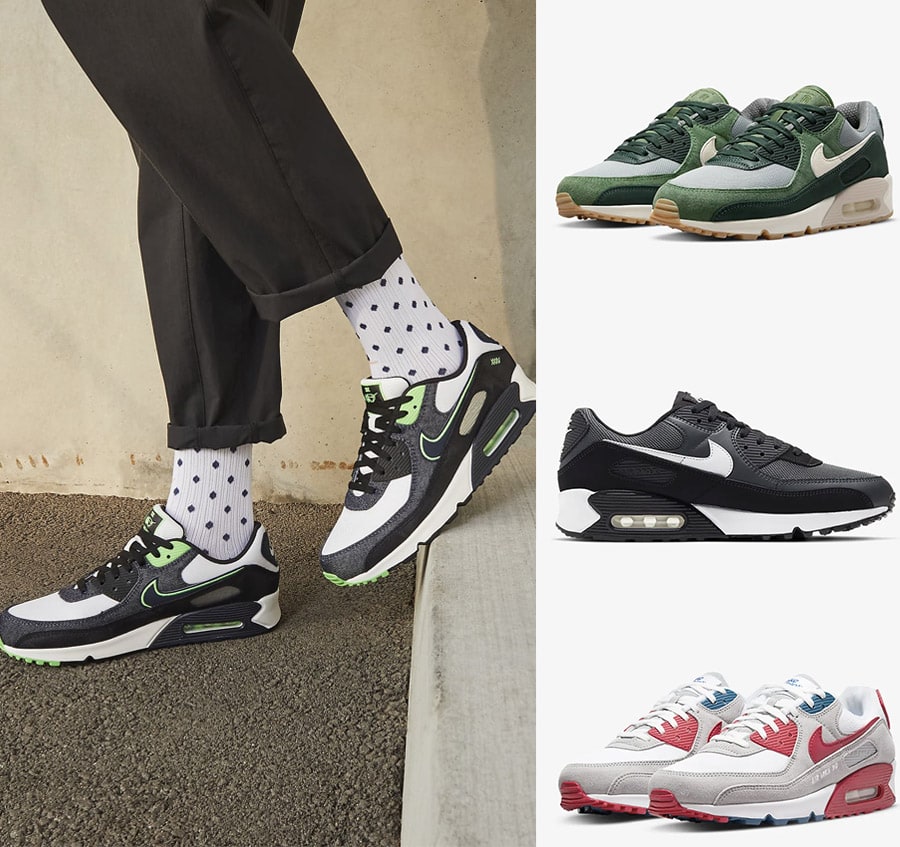 The Nike Air Max 90 is a much-loved sneakerhead classic that's super comfortable and comes in a ton of different colorways. It's a bit chunkier than a lot of other sneakers on this list but so this pair is more for someone who wants to show off their shoes.
Nike Air Max Pre-Day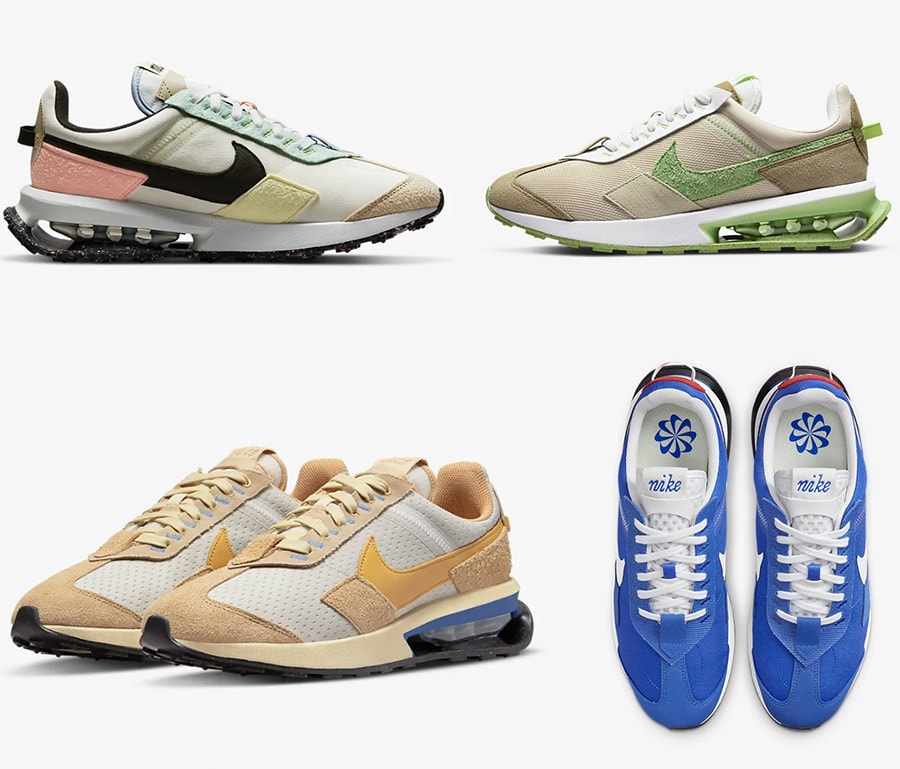 The Nike Air Max Pre-Day is a cool mix of a 70/80's style running shoe that's paired with a modern Nike Air sole. It has a lot of bounce in the heel thanks to the dual airbags. It also comes in a large variety of colors that range from subdued to attention-grabbing.
Nike Waffle Trainer 2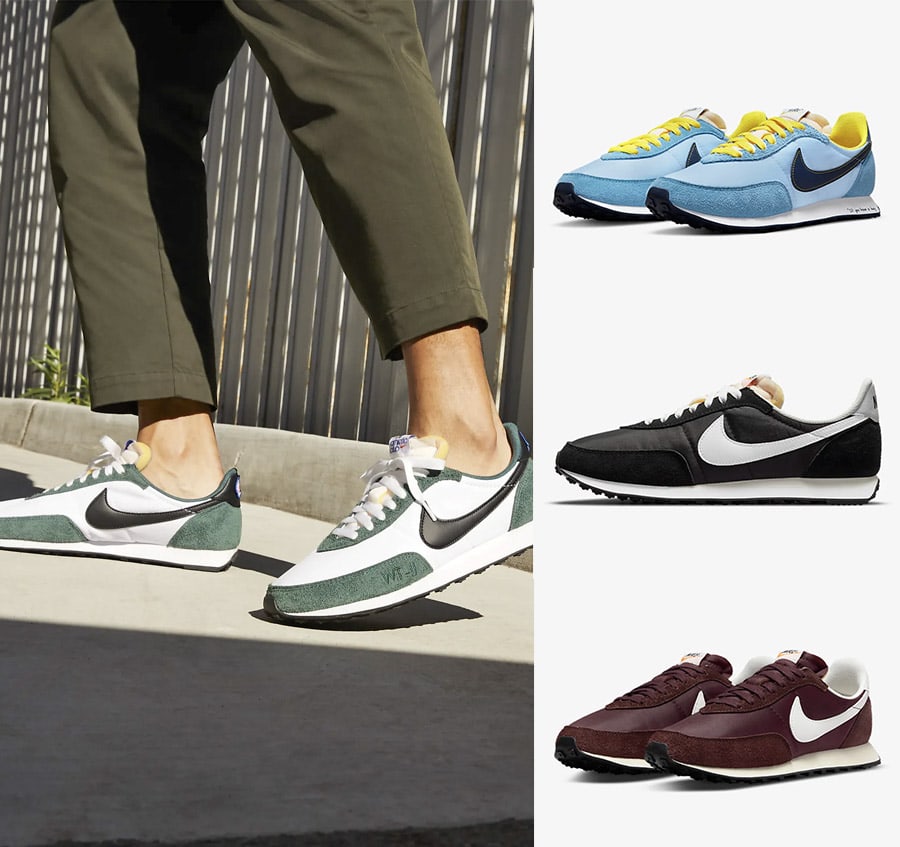 The Nike Waffle Trainer 2 is another retro throwback sneaker with minimalist styling that can be worn casually or even dressed up a bit. The sole on the Nike Waffle Trainer 2 isn't super thick so it doesn't have quite as much cushioning and support as many of the other shoes in the section.
Adidas Ultraboost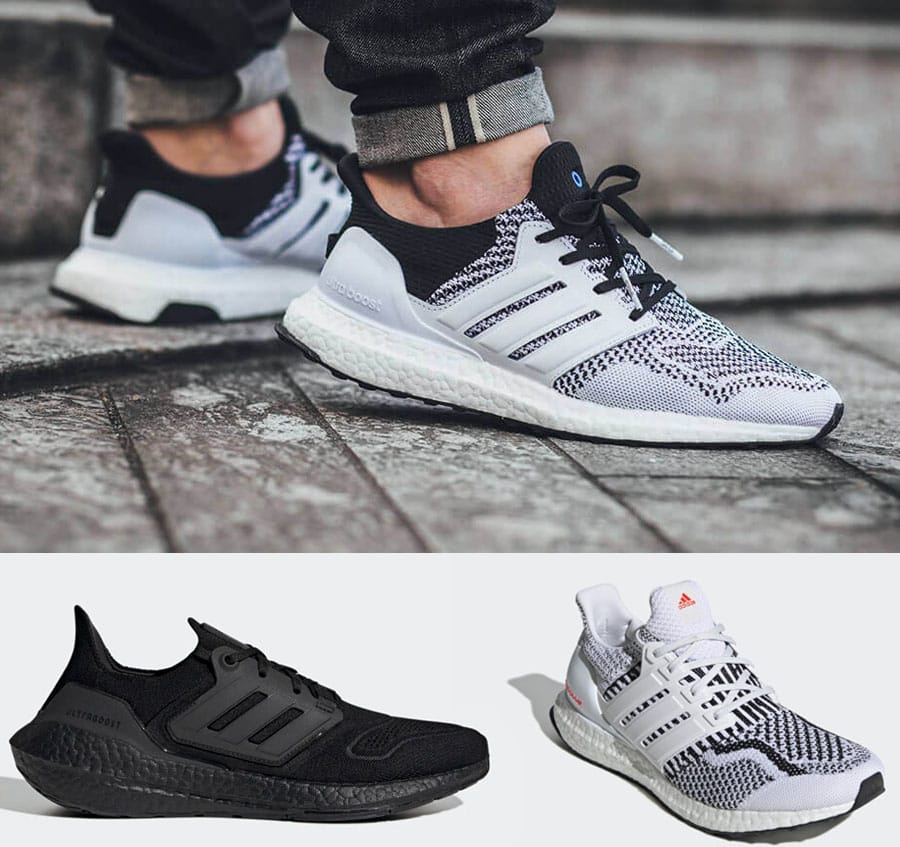 The Adidas ULTRABOOST is a legit running shoe that is also one of the most popular street-style sneakers thanks to its comfortable sock-like upper and ultra-cushioning UltraBoost foam soles. A lot of people say these are some of the most comfortable shoes on the market so they make a great pair of travel shoes.
Nike ACG Lowcate
The Nike ACG Lowcate is a retro-inspired hiking sneaker that also looks good on the streets. Its mixed material upper combines durability with easy styling while the heavy-duty traction pattern on the rubber outsole grips slick terrain. I'd say this is a good option for shoulder seasons when temperatures won't be too warm but you also might run into some slippery streets.
ALLBIRDS TREE DASHERS 2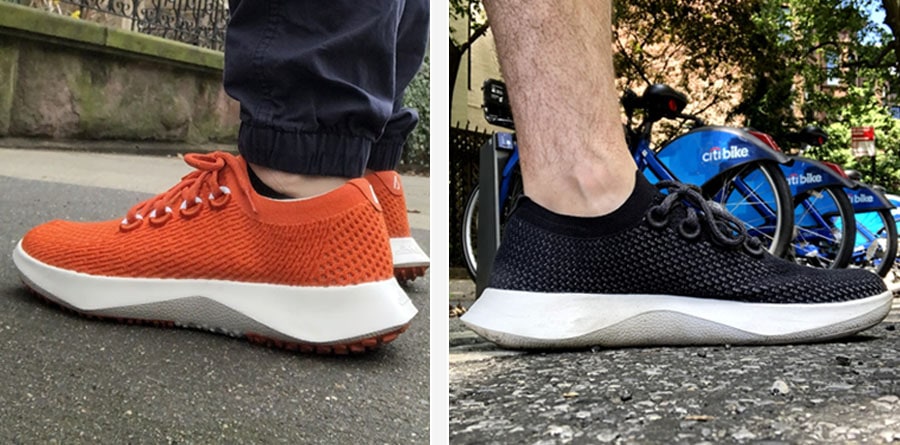 The Allbirds Tree Dashers 2 is a super comfortable walking/running shoe offered by Allbirds that has a ton of support and cushioning. And while the Tree Dasher 2 isn't as sleek or minimalist as some of Allbirds other offerings, this is the Allbirds model you want if you're looking for maximum comfort while traveling. Read my Allbirds Review to get a more in-depth look at my thoughts on the multiple Allbirds models.
---
THE BEST LOW-PROFILE TRAVEL SHOES FOR MEN
A sleeker, low-profile sneaker makes a great second pair of travel shoes because they can be dressed up a bit more while still being casual and comfortable.
However, minimalist shoes can sometimes lack arch support and cushioning so adding an insole can often help boost their comfort—but you still might not want to wear these all day.
Nike Killshot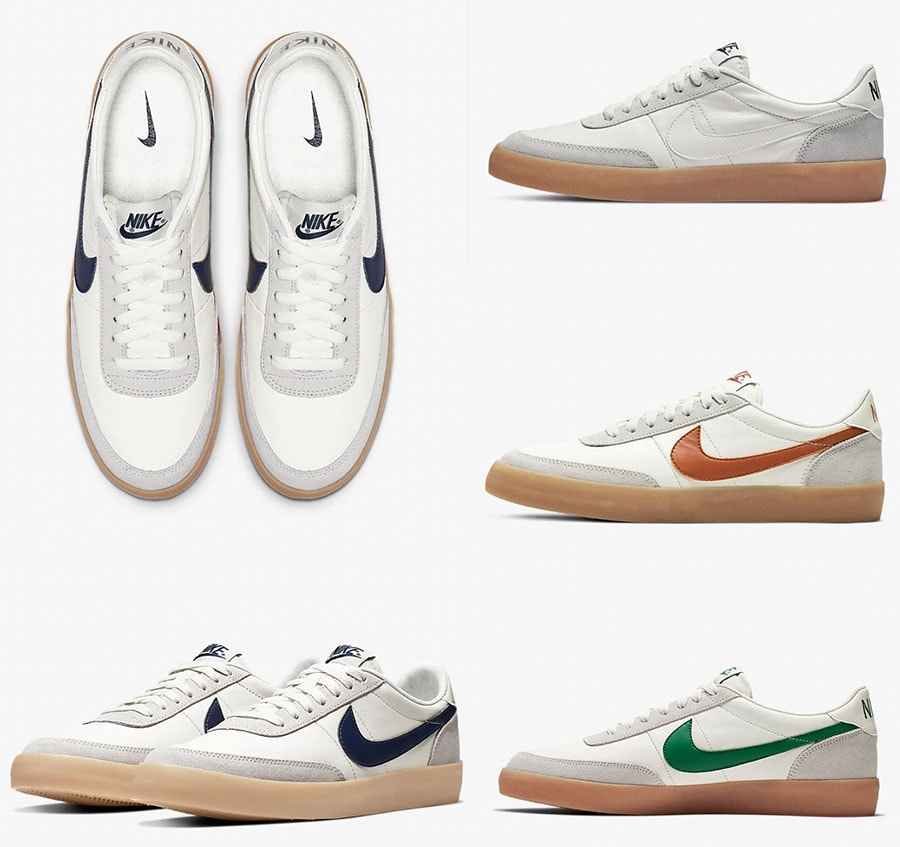 Another great white minimalist leather travel sneaker is the Nike Killshot. These versatile retro tennis sneakers come in multiple accent colors and look good with a variety of outfits.
Nike Blazer Low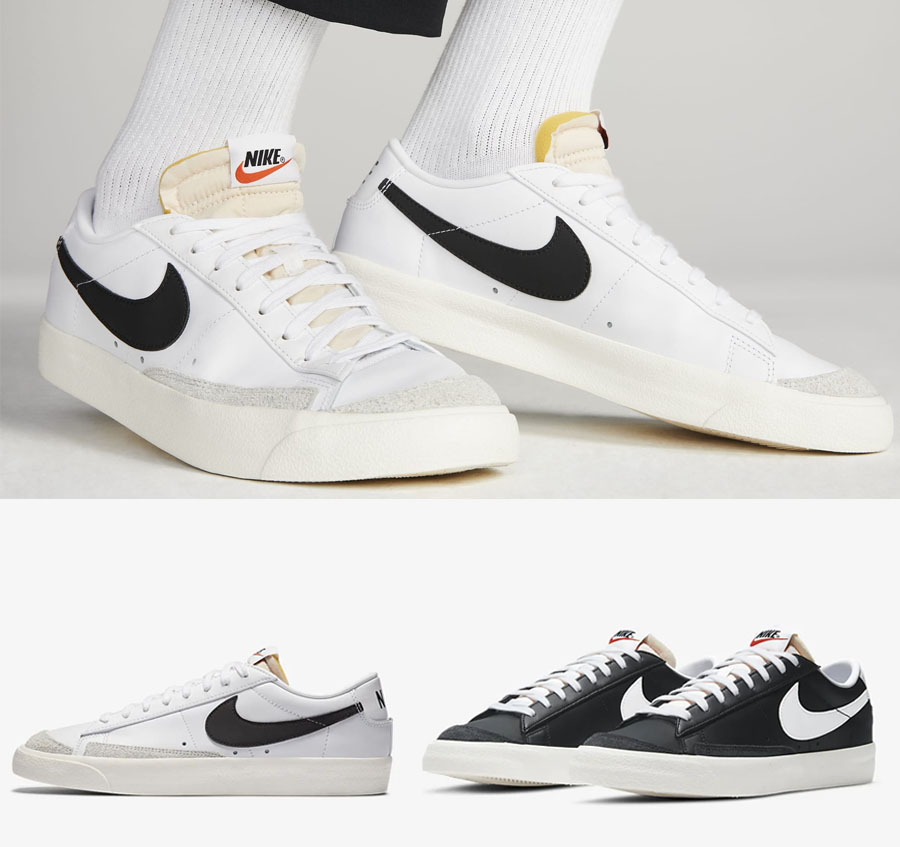 The Nike Blazer Low is another popular low-profile vintage sneaker that features crisp leather on the upper with soft suede accents. It's a nice alternative to the Nike Killshot.
Nike Waffle One Leather and Nike Waffle One
The Nike Waffle line of shoes is another great low-profile sneaker that mixes retro style with a few modern design tweaks like the angular TPU heel clip.
There are multiple variations of the Nike Waffle. The Nike Waffle Leather has a fully leather upper so it has more classical styling. The Nike Waffle SE has a few options that have a mesh upper that allows your feet to breathe in the summer heat (and it looks cool).
New Balance Numeric Sneakers
New Balance's skateboarding "Numeric" line of sneakers is a nice option if you're looking for something sturdy and low-profile. They offer a number of colorways and styles.
ALLBIRDS WOOL RUNNERS & TREE RUNNERS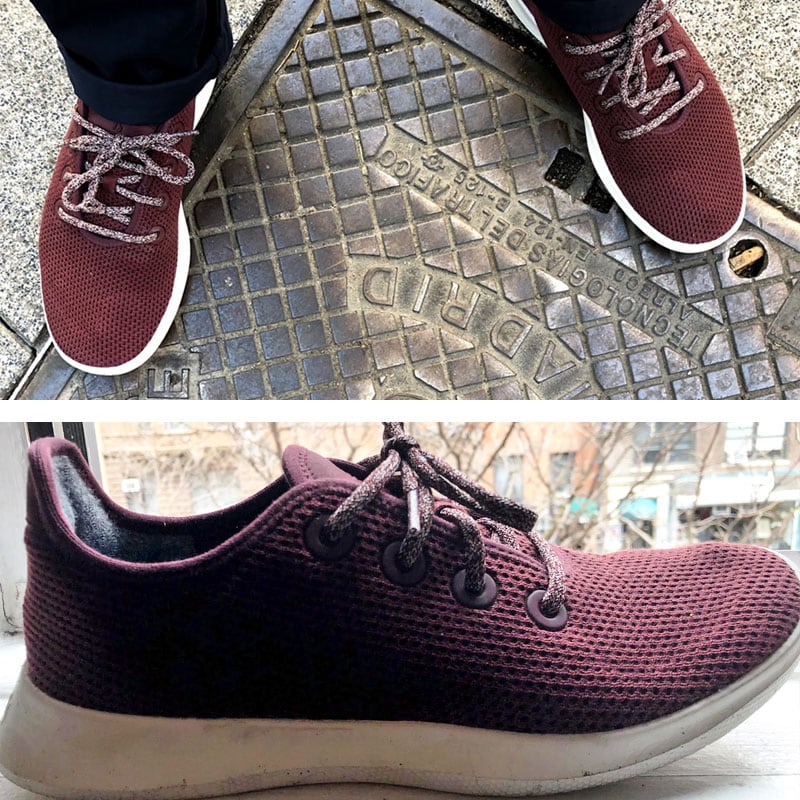 Known around the internet as the "most comfortable shoes in the world," the Allbirds Wool Runners & Tree Runners are the flagship models in the Allbirds lineup—I've written extensively about Allbirds so check out our Allbirds Comparison guide to get a better idea about their full offering.
Personally, I'm a big fan of Allbirds shoes and think they make a great travel shoe option thanks to their minimalist styling and comfort.
Adidas Stan Smiths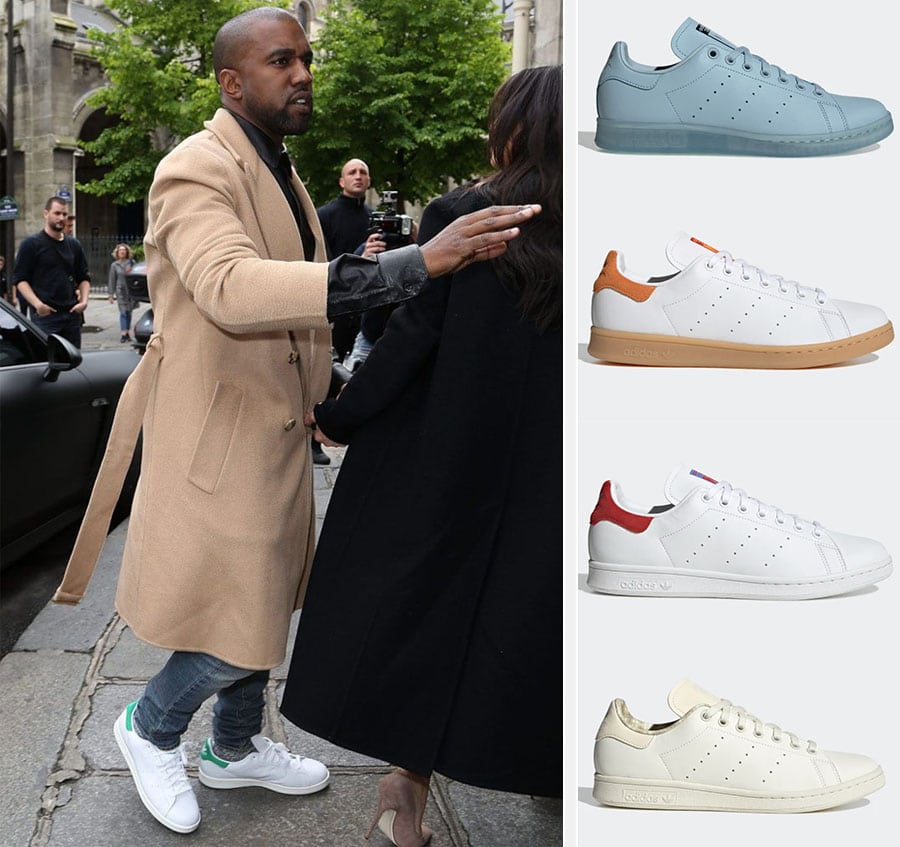 The Adidas Stan Smiths is the undisputed "looks good with everything" sneakers and you'll literally see them on the feet of everyone from 13-year-olds to fashionable 50-year-old Europeans. You'll want to break them in first (plus they look best with a little wear and tear) and a pair of insoles will help with their comfort.
---
THE BEST MEN'S WATERPROOF & WEATHER-RESISTANT SHOES FOR TRAVEL
Traveling during the winter and rainy seasons calls for shoes that are either waterproof or highly weather resistant. Some people opt for boots but I think they're often too bulky unless you're traveling in snowy or extra-rainy conditions.
That's why I'm a huge fan of waterproof/weather-resistant sneakers. As an added bonus, these kinds of shoes offer legit running-shoe comfort and they're often fairly stylish so you can wear them all day.
Important Note: All waterproof and weather-resistant shoes will suffer from some breathability issues (some more than others) so these shoes will be hotter and your feet will get more sweaty—which leads to smelly feet.

I highly recommend buying socks that are anti-odor and moisture-wicking. It's also helpful to carry an extra pair with you and switch halfway through the day.
New Balance GTX Shoes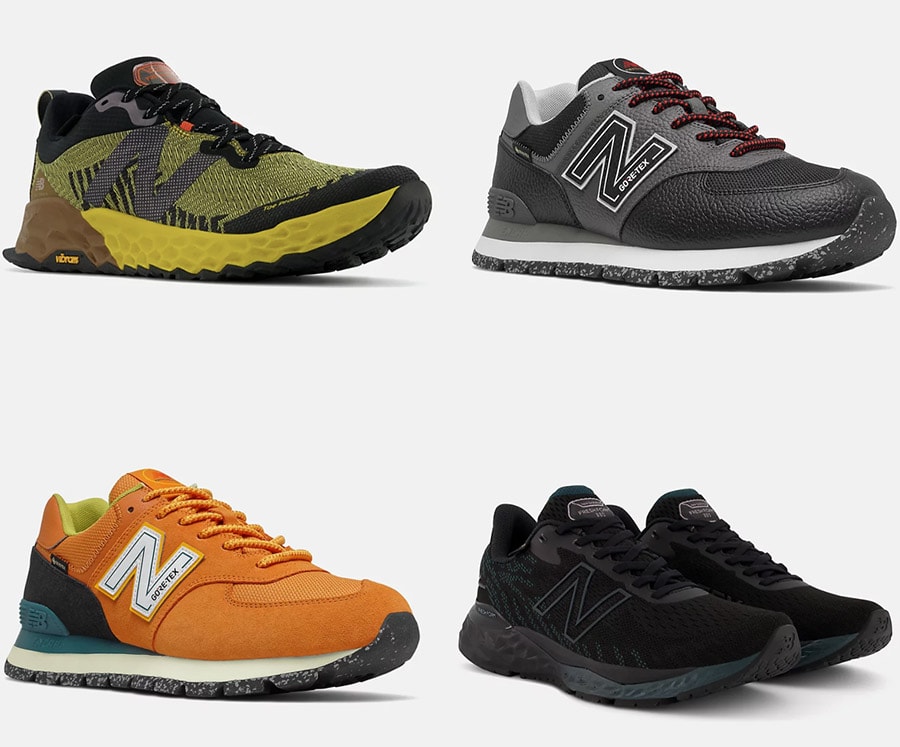 The New Balance "GTX" line of GORE-TEX sneakers are weather-resistant so they work well in rainy/snowy urban environments. They typically have a few trail-running shoe options that will offer a lot of support and a GTX version of their lifestyle sneakers.
NIKE AIR ZOOM PEGASUS SHIELD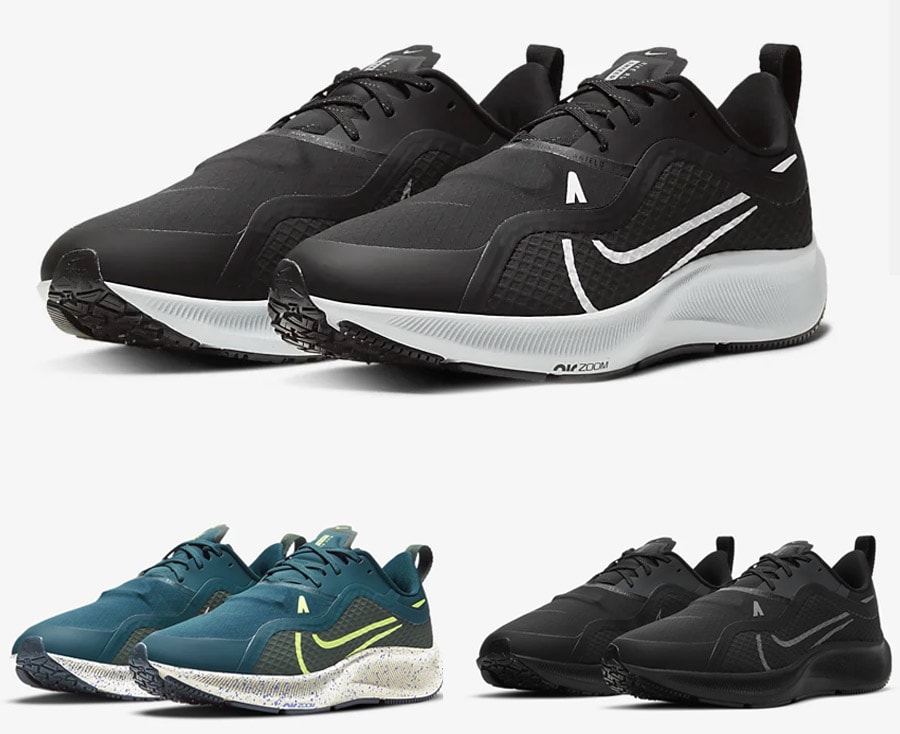 The Nike Air Zoom Pegasus is a water-resistant version of the Pegasus. And while it's not as waterproof as the Pegasus Trail GORE-TEX (see below), it is more breathable so it might be a better option if you're only expecting light rain.
NIKE PEGASUS TRAIL GORE-TEX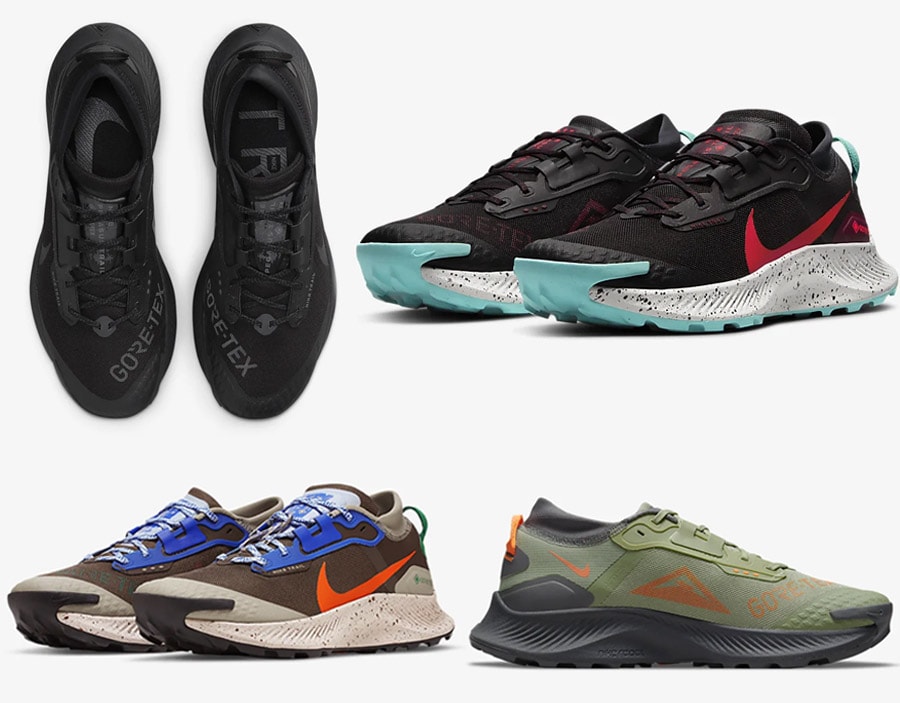 The Nike Pegasus Trail is a beefed-up version of the classic Nike Pegasus running shoe with added GORE-TEX weather resistance so it will keep your feet comfortable while also keeping out the elements. The Pegasus Trail also comes in a variety of colorways so you can go bold or more low-key. This is a great travel shoe if you're expecting rain and light snow.
Nike React SFB Carbon
If you're looking for a travel shoe that's more "beefy" then check out the Nike React SFB Carbon—it's basically as tough as a tactical boot but it has the comfort and similar styling as a sneaker. And it comes with a super comfortable Nike React cushioning sole and a full-length carbon plate to give it extra stability.
ADIDAS ULTRABOOST COLD.RDY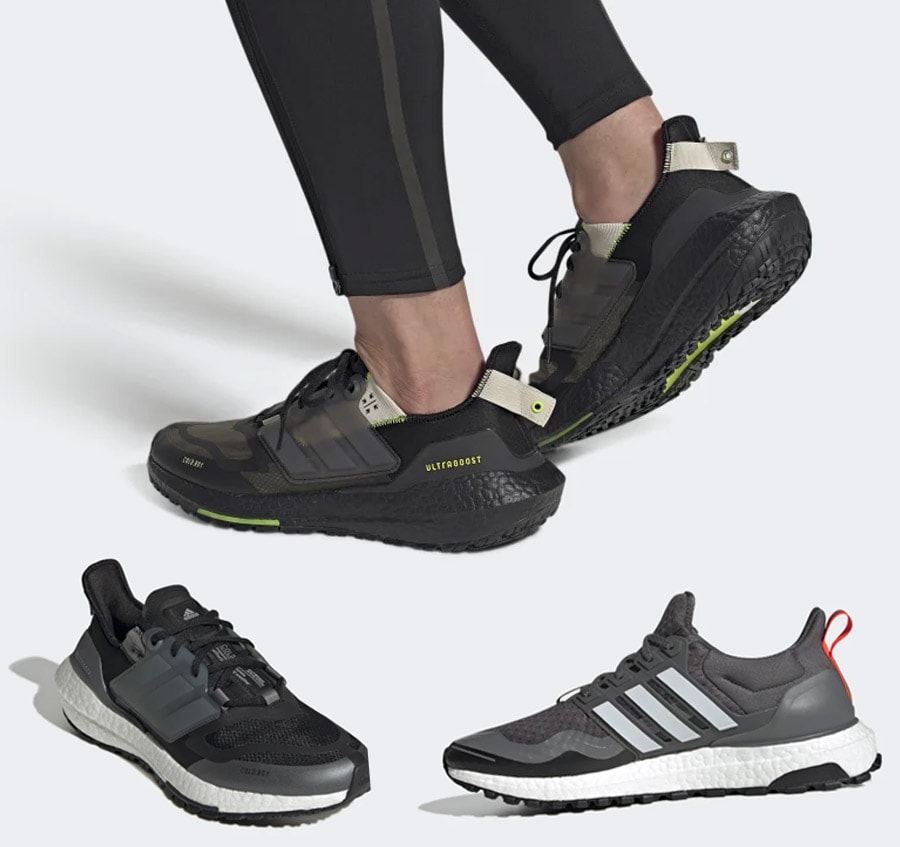 The Adidas ULTRABOOST COLD.RDY is another great choice if you want ULTRABOOST comfort paired with weather resistance.
Allbirds Wool Runners Mizzles and Wool Dasher Mizzles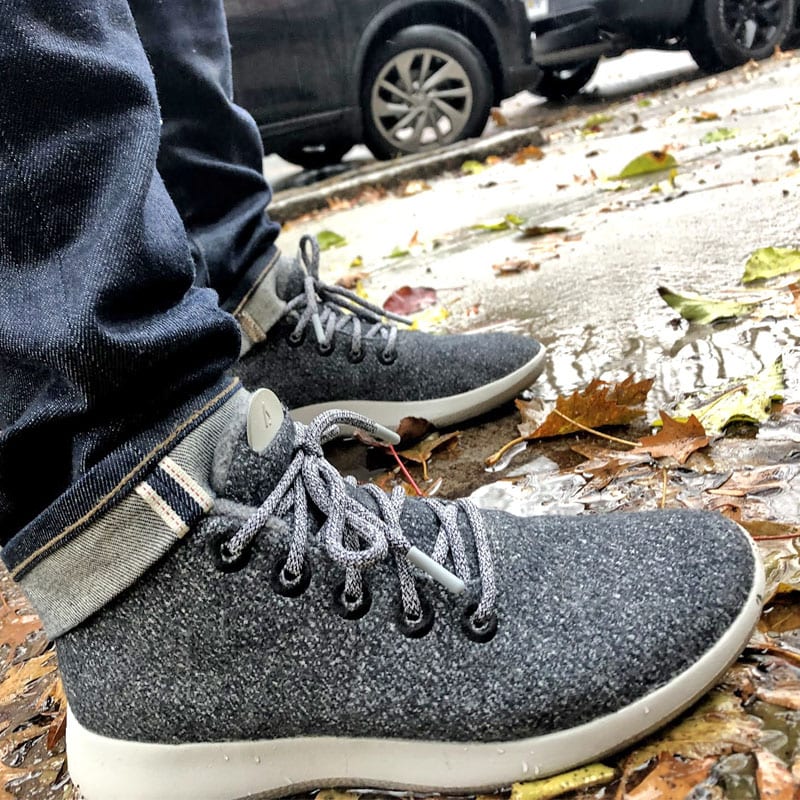 For a more casual look, check out the Allbirds Wool Runners Mizzles—they're warm and comfortable while offering a water-resistant lining and great arch support. Some people also recommend spraying them with a water-repellent spray for extra protection but these aren't for crazy rain or anything.
The Allbirds Wool Dasher Mizzles is a water-resistant version of the Allbirds Wool Dasher running shoe. Since these are true running shoes, they offer a lot of cushioning and support so wearing them all day won't be an issue.
---
Most Supportive Men's Walking Shoes For Travel
For maximum comfort and support, you can't beat a legit pair of walking/running shoes to keep your feet (and entire body) happy. Yes, you might have to sacrifice some style, but I've managed some find some great options that can actually look fairly fashionable.
NIKE REACT INFINITY RUN FLYKNIT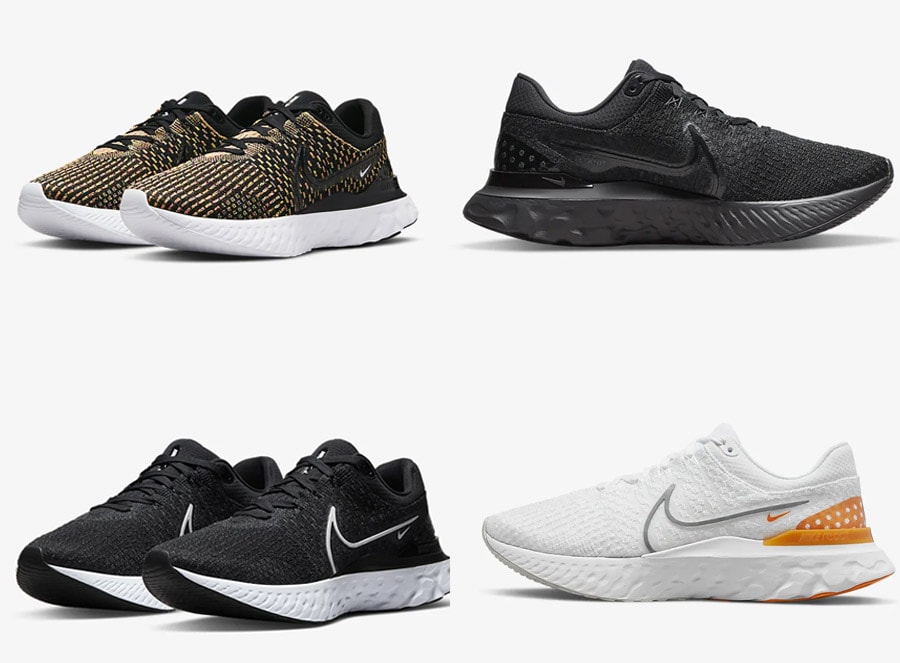 Another awesome sneaker is the Nike React Infinity Run Flyknit which features top-of-the-line React Foam soles that give maximum cushion and the Flyknit material makes the shoe extra lightweight.
And while these shoes are legit running shoes, they also come in a range of colorways so they're still stylish enough to look good when slightly dressed up.
NIKE PEGASUS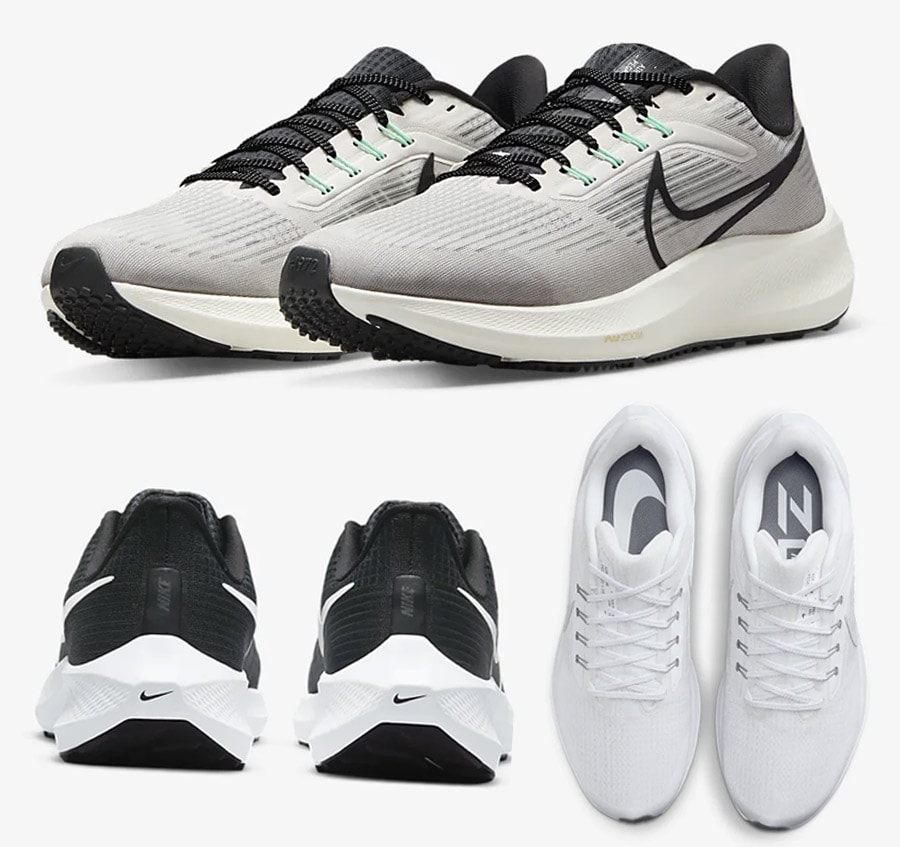 The legendary Nike Pegasus is Nike's workhorse running shoe and it's been the brand's most popular running sneaker for years—so it is a great option if you're looking for high comfort, stability, and cushioning as you travel. The Pegasus comes in multiple colors and configurations so you can find something to suit your style.
New Balance Shoes with Fresh Foam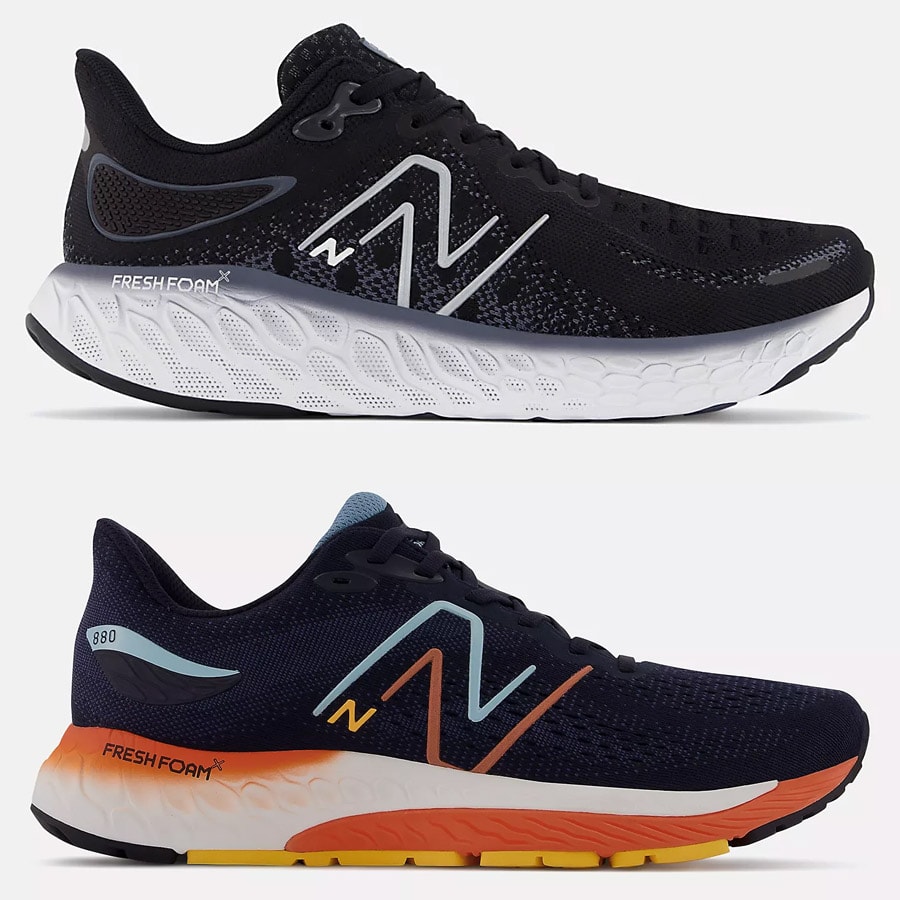 Any New Balance with their Fresh Foam soles will offer a ton of support and cushioning. For max cushioning check out the New Balance 1080. If you're looking for a little less bulk, check out the New Balance 880 and New Balance 860. As an added bonus, most New Balance shoes come in wide and narrow sizes—which is rare for most brands.
New Balance 990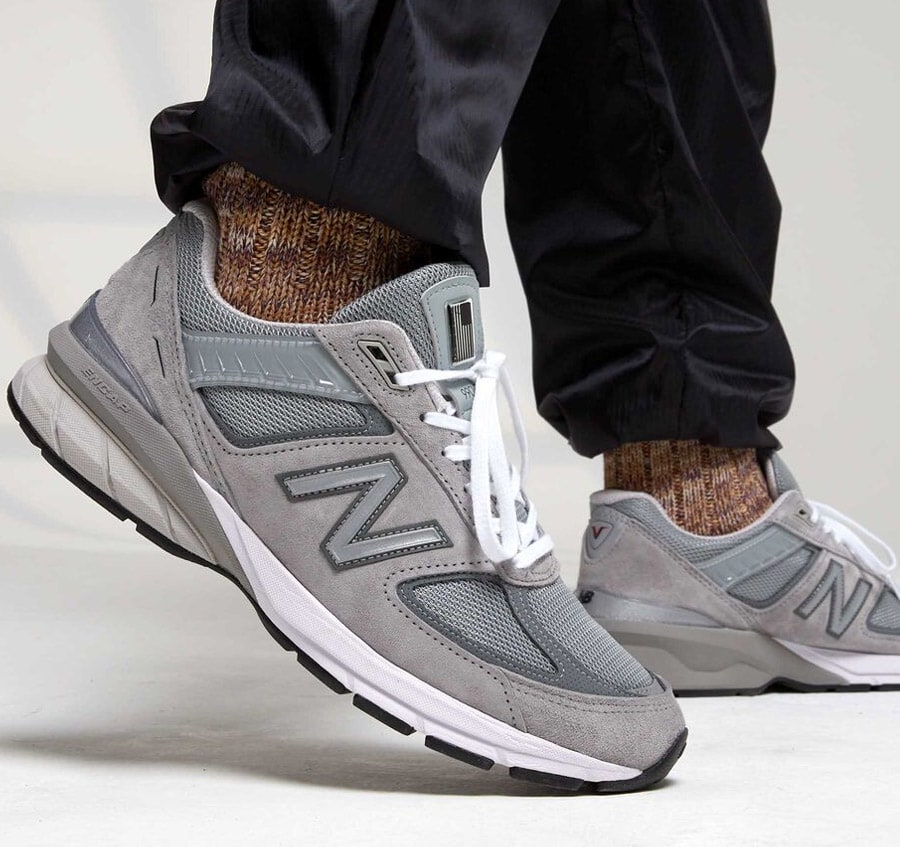 The New Balance 990 is the classic "so ugly that it's actually cool and it's so comfortable I don't want to take it off" walking shoe from New Balance. People love this shoe (it's one of New Balance's highest-rated shoes) and it's a favorite for many young and fashionable urbanites—it has also found its way into many runways and fashion weeks.
---
Other Products To Help Keep Your Feet Comfortable While Travelling
Here are a few other things you might want to pick up to help keep your feet comfortable during your travels.
Socks
Quality socks have a huge impact on the comfort of your feet as they can help stop blisters and foot odor. The main rule is to avoid cotton.
I recommend lightweight wool or wool/synthetic socks from Bombas, Smartwool, and Darn Tough since the addition of wool helps prevent odors. Quality running socks are also a good option.
Insoles
Insoles can be helpful if you have foot issues or if you're wearing a pair of low-profile sneakers like Nike Killshots. I recommend testing out your shoes for a couple of weeks before your trip to see if adding insoles will help. You can find plenty of insole options that cater to different food issues on Amazon and Zappos.
Band-Aids and Anti-Blister Products
It's always smart to pack some anti-blister bandages or similar products just in case your shoes start giving you a blister. There are multiple types of anti-blister bandages available on Amazon.
---
More Helpful Europe Travel Tips From The Savvy Backpacker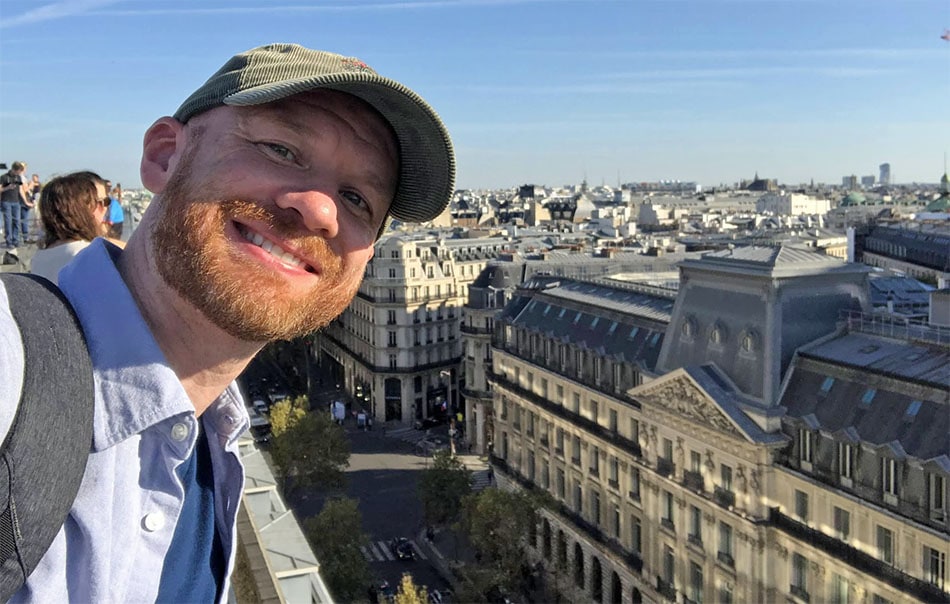 Heading to Europe soon? Here are some more helpful articles I've written to help you plan your European travels.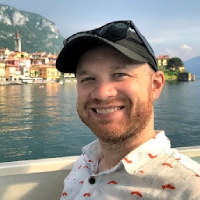 Latest posts by James Feess
(see all)
No Funny Business
The Savvy Backpacker is reader-supported. That means when you buy product/services through links on the site, I may earn an affiliate commission — it doesn't cost you anything extra and it helps support the site.
Thanks For Reading! — James
Questions? Learn more about our Strict Advertising Policy and How To Support Us.