A nice pair of headphones or earbuds is a great travel accessory. Having music really helps make flights more enjoyable and I think it makes train travel even more magical. When you wear them while walking around a city it makes you feel like you're in a movie. There are hundreds of headphones on the market, but this list will feature a range of our favorite headphones for travel — from quality budget models to high-end noise-canceling options. We believe that the headphones listed below are the best value for the money at each price-point.
Features to look for when searching for the best headphones for travel:
Price — While higher-end headphones do cost a lot, you don't necessarily have to spend a ton to get a quality pair.
Packability — Some headphones can be big and difficult to pack.
Comfort — Even the best sounding headphones become less desirable if they become uncomfortable after wearing them for a long time.
Audio Quality — Cheap headphones usually don't sound that great, but you don't have to spend a fortune to get a quality pair. The recommendations below all received positive reviews for audio quality
Noise Cancellation — High-end headphones often have a noise cancellation feature. This is great for airplanes and other loud environments. This feature is usually pretty expensive so it might only be best for very frequent travelers.
Bang-For-The-Buck —Look for headphones that get the best rating at the price you are comfortable spending.
The headphones on the list below are ordered by price. We chose each each pair based of their reviews. We know everyone has a different travel budget, so we tried our best to list headphones in the $25-$300 price range.

Priced around $300, these Bose headphones are pricey but they're amazing at canceling outside noise. These are perfect for long plane rides and they get positive reviews for sound quality. Over-the-ear headphones can get a bit bulky but the QuietComfort is surprisingly compact. They also come with a travel case so they can be packed away safely. Obviously, the QuietComfort probably aren't the best choice for budget travelers, but if you're a flashpacker with some cash to spend then you'll enjoy these.
Beats by Dre headphones might not have the same sound quality as other similarly priced headphones, but they look damn sexy. I saw fashionable people wearing these all over Paris, so if you want headphones that will help you look like a hip city-dweller, these these are the perfect choice. Additionally, these are pretty sturdy, come with a travel case, and fold up for easy packing.

The Bose IE2 headphones are a good option for tech savvy travelers who want outstanding sounding in-ear headphones.  These sound great and they are comfortable. Plus, since they're earbuds, they hardly weigh anything and they can be thrown into a daypack.  But the quality does come at a price which will probably make it too expensive for most budget savvy travelers.
The Grado SR8oi is probably the best bang-for-your-buck option for people who don't want want to pay a fortune, but still want excellent quality headphones — many reviewers say these sound just a good as headphones at 2x the price. The SR8oi is constantly voted as the best headphones for under $100. These are not only comfortable, but I also really like the retro style design. These don't fold up but they do fold flat and they're lightweight.
The Audio Technica M50's are another great value for the money. These produce great quality sound and people all say they're comfortable — even after wearing them for hours. These are a bit on the big side but they do fold up when you want to store them away.

The Sony MDR-V6 is anther great sub-$100 option. These get great reviews for sound quality but some people complain about the comfort.
The Koss PortaPro's are excellent headphones for travel. They are lightweight, fold for easy packing, and their sound quality gets high praises. The PortaPro's are probably the best headphones in the $30-$50 range. People either love or hate the styling so you'll have to decide if you like it. I remember seeing people on the Paris Metro wearing these often and the style has grown on me.
The Klipsch Image S4 are probably the best rated in-ear headphones for under $50. This is a great option because they do a nice job of isolating outside noise. Plus, since they're earbuds, they don't take up any space in your bag.
For under $40 you'd be hard pressed to find over-the-ear headphones that sound as good as these Monoprice 108323. They're sturdy but some people complain about them being a bit uncomfortable after wearing them for awhile.

The JBuds J5 are a great option for budget travelers who still want quality sound from their headphones. These come with different size earpieces to ensure a great fit.

Sennheiser makes some of the best headphones and the HD201 are the best entry level headphones on the market. They're known for being a bit uncomfortable after extended wear, but for around $25 the HD201 can't be beat. Plus, at this price, you probably won't be heartbroken if you lose or break them.
What are your favorite headphones for travel? Let us know in the comments!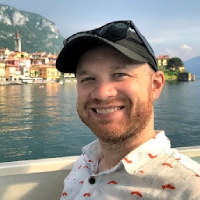 Latest posts by James Feess
(see all)
No Funny Business
The Savvy Backpacker is reader-supported. That means when you buy product/services through links on the site, I may earn an affiliate commission — it doesn't cost you anything extra and it helps support the site.
Thanks For Reading! — James
Questions? Learn more about our Strict Advertising Policy and How To Support Us.